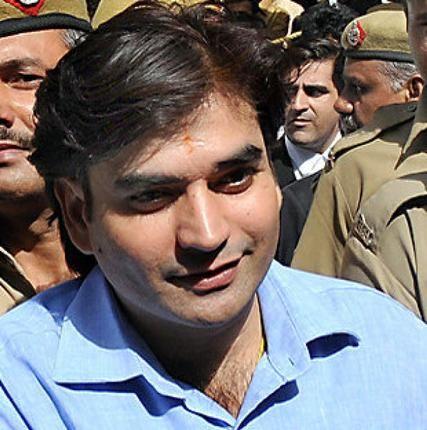 The Supreme Court on Tuesday dismissed a plea by Vikas Yadav, one of the convicts in the sensational kidnapping and murder of business executive Nitish Katara in 2002, seeking review of its verdict sending him to jail for 25 years.
A bench comprising Chief Justice Dipak Misra and Justice S A Bobde rejected the review plea saying there was no reason to interfere with the court's verdict of October 3 last year.
"We have carefully gone through the review petitions and the connected papers, but we see no reason to interfere with the order impugned. The review petitions are, accordingly, dismissed," the bench said.
Besides Vikas, the apex court had awarded 25-year jail term to his cousin Vishal Yadav while third co-convict Sukhdev Pehalwan was given 20 year jail term in the murder case.
On October 3 last year, the apex court had modified the award of 30-year jail term, handed down to the Yadavs by the Delhi high court, saying 25 year imprisonment for the offence of murder and five year jail term for causing destruction of evidence would run concurrently and not consecutively.
It had also scaled down the jail term of 25 years to 20 years to be awarded to Sukhdev by holding that the jail term for separate offences would not run consecutively, but concurrently.
The top court had earlier dismissed the appeals against their convictions in the case for kidnapping Katara from a marriage party on the intervening night of February 16-17, 2002 before killing him for his alleged affair with Bharti Yadav, sister of Vikas.
The apex court had concurred with the findings of the high court that the offence fell under the category of honour killing, deserving harsh punishment, in order to send across a strong message to possible offenders.
Vikas, Vishal and Sukhdev were serving life term awarded by the lower court in May 2008 for abducting and killing Katara, a business executive and the son of a railway officer, as they opposed the victim's affair with Bharti, daughter of Uttar Pradesh politician D P Yadav.
The high court had on April 2, 2014, upheld the verdict of the lower court, by describing the offence as "honour killing" stemming from a "deeply-entrenched belief" in the caste system.
Katara was abducted and killed by Vikas, Vishal and Sukhdev as they did not approve of the victim's affair with Bharti because they belonged to different castes, the lower court had said.
© Copyright 2020 PTI. All rights reserved. Republication or redistribution of PTI content, including by framing or similar means, is expressly prohibited without the prior written consent.