Janata Dal-United parliamentary board chief Upendra Kushwaha has claimed that 'delay' by the Rashtriya Janata Dal in taking action against minister Chandra Shekhar and MLA Sudhaker Singh might give credence to speculations that Lalu Prasad Yadav's party had struck a compromise with the Bharatiya Janata Party.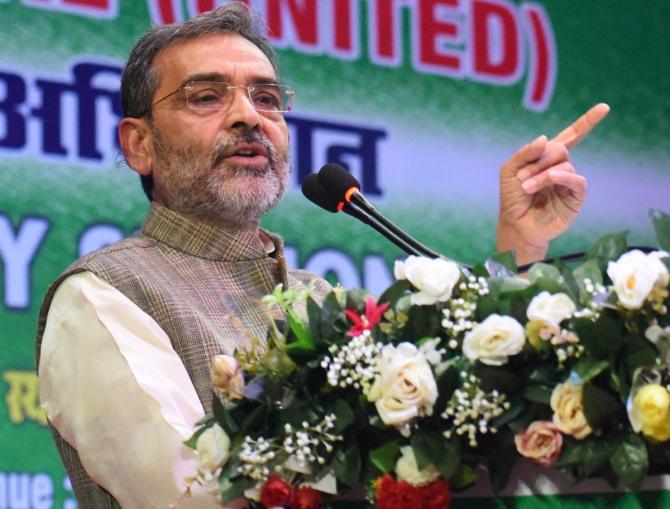 Kushwaha made the exasperated remark in reply to queries from journalists about Singh's relentless, and often personal, attacks on Chief Minister Nitish Kumar and Chandra Shekhar's uncharitable remarks about Ramcharitmanas which triggered a controversy.
He said, "Deputy CM Tejashwi Yadav has himself said that Sudhaker Singh's behaviour was tantamount to helping the BJP. Chandra Shekhar, the education minister, has caused the political discourse to centre around 'Ramcharitmanas' and it is a no brainer that BJP will gain the most if the controversy lingers on."
"It is high time that action was taken against the two leaders who have caused embarrassment to the 'Mahagathbandhan' government. If the RJD does not restrain those who are helping the BJP then allegations of a clandestine deal with the saffron party will ring true," said the JD-U leader.
Kushwhaha used the term 'Kanooni raahat' (legal relief) to explain the alleged RJD-BJP 'deal', indirectly referring to cases lodged by central agencies against Prasad, the RJD supremo, and family members including Yadav, the younger son and heir apparent.
He rued that the JD-U has 'become weak' over the past many years and 'if people get away with heaping insult on the chief minister, who is our supreme leader, then we will be only be pushed backwards'.
When asked to comment on Kushwaha's outbursts, JD-U national president Rajiv Ranjan Singh alias 'Lalan' said his party 'is not moving backwards but marching forward. As regards action against errant leaders is concerned, the RJD leadership is competent enough to take a call'.
RJD spokesman Mrityunjay Tiwari angrily reacted to remarks of Kushwaha, who was formerly with the NDA, saying 'those accusing us of being in cahoots with BJP should look in the mirror'.
Shivanand Tiwary, the RJD national vice president, did not agree to the demand for action against Chandra Shekhar saying 'it is not for the JD-U to decide what will happen in our party' but added that he found state president Jagadanand Singh's condoning of the education minister 'inappropriate'.
"Singh on Friday said the party stood by Chandra Shekhar. He exceeded his brief. Neither Lalu Prasad nor Tejashwi Yadav have said so nor has the party taken a stand at a meeting of office-bearers.
"Moreover, Jagadanand Singh takes pride in being a disciplinarian but when it comes to Sudhaker, his own son, his silence has been deafening. He seems to be in a sulk over Sudhaker having been made to resign from the cabinet," said Tiwary.
"Chandra Shekhar did not do the right thing by speaking about what he found wrong with Ramcharitmanas at a convocation ceremony. Moreover, his views militate against the ideals espoused by Ram Manohar Lohia who had immense respect for the country's cultural heritage. The RJD cannot go against Lohia," declared Tiwary.
Meanwhile, the BJP continued to demand the sacking of the education minister even as it linked Kushwaha's outbursts to unfulfillment of his ambitions.
Leaders like former deputy CM Sushil Kumar Modi and Union minister of state for Home Nityanand Rai alleged that the government's 'silence' over the 'insult' to Ramcharitmanas was indicative of its 'anti Hindu' character.
Besides, state BJP spokesman Nikhil Anand alleged in a statement, 'Nitish Kumar has snubbed Kushwaha, who was hopeful of becoming a deputy CM. Now Kushwaha must either surrender or fight for his honour. His annoyance is more with his own party boss than the alliance partner.'
© Copyright 2023 PTI. All rights reserved. Republication or redistribution of PTI content, including by framing or similar means, is expressly prohibited without the prior written consent.