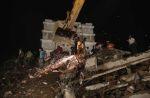 Nine bodies, recovered from the debris of the unauthorised building in Shil Phata area in the district, which crashed on Thursday killing 74 people, are yet to be identified.
Officials said four bodies were at the CivilHospital, while five were at CSMCivicHospital, Kalwa.
All other bodies have been identified.
Meanwhile, bodies of 11 labourers hailing from Malda in West Bengal, who were among the victims, were flown back to their home state last night.
Many of the victims were construction workers from Karnataka, Andhra Pradesh and West Bengal.
The seven-storey unauthorised building at Shil Phata in Mumbra in the district had come down crashing in a heap on Thursday evening, in the worst tragedy of its kind in Maharashtra, which left 72 people dead so far.