Khalistani separatist Hardeep Singh Nijjar, whose killing led to a row between India and Canada, was not a religious and social figure but a terrorist who was involved in running terrorist training camps and funding terror acts, sources have said.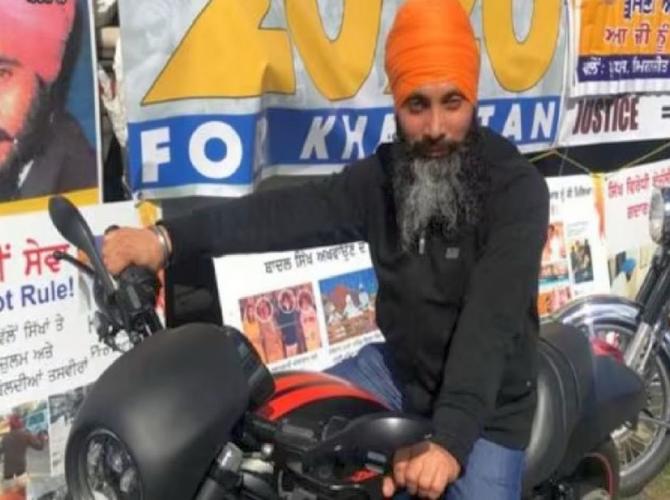 Nijjar was a close associate of Gurdeep Singh alias Deepa Heranwala, who was involved in the killing of around 200 people in Punjab during the late 1980s and early 1990s.
Heranwala belonged to the banned Khalistan Commando Force.
Nijjar, who was killed by unidentified assailants on June 18 at a parking lot of a Sikh gurdwara in British Columbia, had escaped to Canada in 1996 fearing arrest by police here and indulged in illegal activities like drug smuggling and extortion in Canada to arrange funding for terrorist activities, sources said.
Nijjar was also involved in training youths at a terror camp in British Columbia to carry out attacks in India, they said.
Over the years, Nijjar assumed the role of 'Operation Chief' of Khalistan Tiger Force, or KTF, a banned terror group.
In 2020, he was accused by the government of being actively involved in 'operationalising, networking, training and financing' KTF members.
In 2012, Nijjar visited Pakistan and came in touch with Jagtar Singh Tara, chief of Babbar Khalsa International, another banned terror group.
Tara supplied him arms and trained him in assembling IED in 2012 and in 2013. He sent United States-based Harjot Singh Birring to Canada to train Nijjar in operating hand-held GPS device.
Nijjar also sent 1 million Pakistani rupees to Tara, sources said.
In 2014, Nijjar planned a terror attack on Dera Sacha Sauda headquarters in Sirsa in Haryana on directions of Tara. However, the attack could not take place because Nijjar was denied Indian visa, they said.
Nijjar allegedly muscled his way into the post of president of the local gurdwara in Surrey in Canada in 2021, forcibly deposing his cousin, Raghbir Singh Nijjar, the incumbent, with threats of violence.
The National Investigation Agency has registered several cases against Nijjar as well as issuing an Interpol Red Corner Notice for raising a module in Canada involving Khalistani separatist Mandeep Singh Dhaliwal.
Nijjar was also the head of Canada chapter of Sikhs For Justice, another banned terrorist organisation.
He had also organised violent anti-India protests in Canada and threatened Indian diplomats, sources said.
Nijjar had also given a call to ban Indian Embassy officials to participate in various programmes organised by local gurdwaras in Canada.
India and Canada are embroiled in a diplomatic row over the killing of Khalistani Nijjar in June.
The row erupted following Canadian Prime Minister Justin Trudeau's allegations of a 'potential' involvement of Indian agents in his killing.
India on Tuesday rejected the allegations as 'absurd' and 'motivated' and expelled a senior Canadian diplomat in a tit-for-tat move to Ottawa's expulsion of an Indian official over the case.
In reflection of hardening of its position, India on Wednesday advised all its nationals living in Canada and those contemplating travelling there to exercise 'utmost caution' in view of growing anti-India activities and 'politically-condoned' hate crimes as well as 'criminal violence' in that country.
India on Thursday announced temporarily suspending issuance of visas to Canadian citizens in view of 'security threats' faced by its high commission and consulates in Canada.