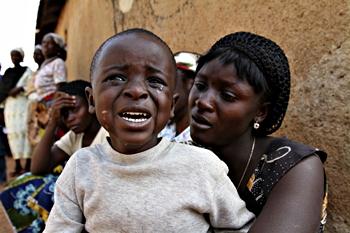 A fresh round of violence in the communally sensitive northern Nigerian city of Jos has killed more than 500 persons and displaced dozens.
The violence started in Dogo Nahawa, a village about five kilometers south of Jos, where machete-wielding gangs killed scores of villagers and burned down houses in a move seen as a deliberate attempt to provoke more killings in the main city.
Officials have so far not confirmed the death toll.
"More bodies are being brought in and we cannot give the total casualty figure now because houses were burnt and vehicles were set ablaze too thereby leading to high number of deaths," state commissioner for information Greg Yenlong told PTI.
However independent reports said 500 persons, mostly women and children, are believed to have died and dozens have fled to police stations and neighbouring towns.
Red Cross spokesman Robin Waubo said the military had moved in but hundreds have already fled even as the number of deaths have not been verified.
Bishop Andersen Bok, an official of the Plateau State Christian Elders group, said the death toll has hit 500.
"Their dead bodies are still lying in their own pool of blood as I speak. The attack started at about 1.30 am last night. We are in touch with the survivors though many of them still in trauma," he said.