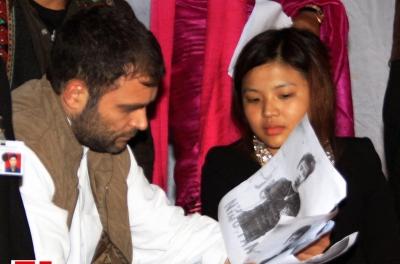 Family of Nido Tania, the 19-year-old youth from Arunachal Pradesh who was allegedly beaten to death by some shopkeepers in South Delhi's Lajpat Nagar area a few days ago, met Congress Vice President Rahul Gandhi demanding speedy justice for their son and strict punishment for the perpetrators.
The family, which met Gandhi at his Tughlak Road residence in New Delhi on Tuesday, also alleged police negligence in the case and demanded stringent action against the policemen.
"We have apprised Rahulji about our feelings. First of all we have requested him to punish the people who are involved in killing my son. Number one is Delhi Police and secondly those culprits," said Tania'a father Nido Pavitra.
Tania's mother also expressed the same sentiments and said that "It is total discrimination and it is police negligence. The Delhi police forgot their duty, my son could have been saved. We met Rahulji and placed some points on the anti-racial discrimination act also."
She also pointed out that the need of the hour is to spread awareness among the people as making a law will not be enough as "we Indians, our mindset is not clear. That (making a law) is not going to change anything", she said.
Congress MP from Arunachal Pradesh Takam Sanjoy, who accompanied Tania's parents, also said that they had requested the Congress vice president to ensure that stringent punishment is meted out to police personnel responsible for Nido's death.
Tania, son of Arunachal Pradesh Congress MLA Nido Pavitra, was allegedly beaten up by some shopkeepers in the Lajpat Nagar area of south Delhi on January 29 when he retaliated after they made fun of his hairstyle. He was found dead in his room the next day. The incident evoked widespread outrage.
The Delhi police had on Monday told the high court that Tania'a post mortem report said that there were nine external injuries on the body of the deceased and he died of severe head and lung injuries.

Image: Congress Vice President Rahul Gandhi meets students from northeast, who were protesting against the death of Arunachal student Nido Tania

Photograph: PressBrief