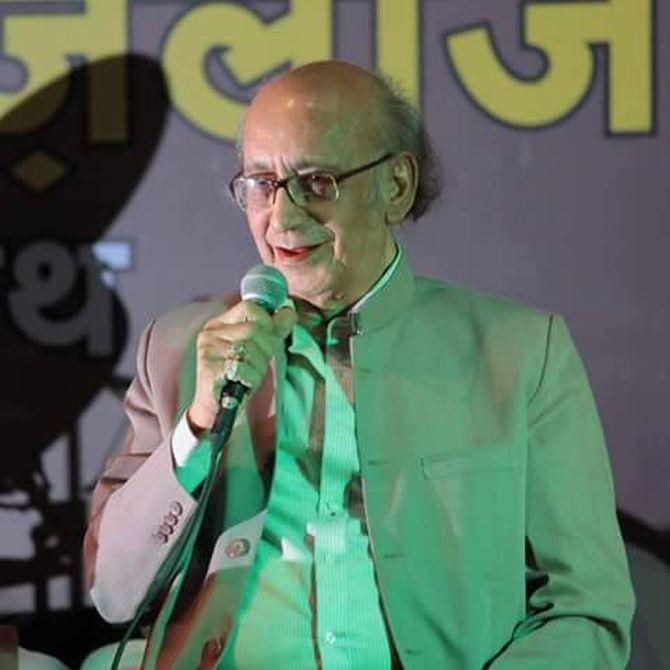 For generations to come it will be difficult for any other Urdu poet to attain such high standards as Nida Fazli, who passed into the ages on Monday, says Syed Firdaus Ashraf/Rediff.com.
When the news broke that poet Nida Fazli has died, the first thought that came to my mind was this beautiful Urdu couplet penned by him:
Kabhi kisi ko muqammal jahaan nahi milta
Kahin zameen kahin aasman nahi milta
No one gets a perfect world
If you get land, you don't get the sky.
Tere jahaan mein aisa nahi ke pyar na ho
Jahaan umeed ho iski, vahaan nahi milta
It is not that you don't get love in this world
But from where you expect to find love, you don't.
The beauty of this Urdu shayri, and the philosophy of life it encapsulates, has been so well described by Nida Fazli in mere four lines that for generations to come it will be difficult for any other Urdu poet to attain such high standards.
My first meeting with Nida Fazli was at a mushaira where I recall everybody would sit and wait for what Nida Fazli had to say.
He was the ultimate authority on Urdu poetry in those days, and nobody came anywhere close to his standards.
My all-time favourite Nida Fazli couplet was:
Apni marzi se kahaan apney safar ke hum hain
Rukh hawaaon ka jidhar ka hai, udhar ke hum hain
We don't follow our own paths in life
But that of the winds which take us wherever.
Pehle har cheez thi apni magar ab lagta hai
Apne hi ghar mein kisi doosre ghar ke hum hain
Earlier everything at home was ours but now
It feels I am not in my own home anymore.
During the 1992-93 Mumbai riots, when the city was burning, Nida Fazli suddenly went missing, causing alarm among his many followers.
Many Muslim homes had been targeted by right-wing Hindu mob post the Babri Masjid demolition riots, and those housing well known names were singled out.
Calls to Nida Fazli's landline phone went unanswered and nobody knew what had happened to him.
It was only after a week that one came to know that he was alive and had moved out of his home for safety.
This was not the first time Nida Fazli had to bear the brunt of Hindu-Muslim riots. Post-Partition, his entire family moved to Pakistan but he remained in India.
Taking a dig at religion in one of his Urdu shayris, he wrote:
Bachcha bola dekh kar masjid aali-shaan
Allah tere ek ko itna bada makaan.
On seeing the splendid mosque the child remarked
Allah, such a huge house for you alone!
Fazli came to Mumbai from Gwalior in 1964 and started out by writing for Hindi and Urdu newspapers. He tried his hand at Bollywood lyrics but unlike other Urdu poets he could never achieve great success in the film world.
Nida Fazli had to compete with the likes of Urdu greats like Sahir Ludhianvi, Majrooh Sultanpuri, Kaifi Azmi and Hasrat Jaipuri who were then ruling Bollywood with their pen.
Another reason often quoted is the temperament displayed by Nida Fazli; he was very outspoken and even rude at times.
I recall once he had been invited as chief guest for an event. As he came and sat on the chair in the auditorium, the audiences were amazed to see the great poet in person in their midst.
But before the programme was about to begin, he said he wanted to ease himself and left. As the audiences waited, he never came back. He also switched off his phone and the function had to go on without him.
Such were his tantrums, but then if you are Nida Fazli you had to be different.
In the film world he did not get success early on. It was only in the early '80s that he could make a mark as a poet with the famous song from the movie Ahista Ahista: Kabhi kisi ko muqammal jahaan nahi milta sung by Bhupendra.
The most famous song penned by Nida Fazli was from Aamir Khan's Sarfarosh.
Hosh walon ko kya khabar bekhudi ya cheez hai
Ishq kijiye phir samajhiye zindagi kya cheez hai.
People who are self-conscious don't understand what it means to be in love
Fall in love and you will understand what life is.
It was sung by Jagjit Singh who was his dear friend, and the two collaborated on many other songs too.
In an interview to Pakistani newspaper Dawn, Jagjit Singh recalled how he had stopped singing for six months after his only son Vivek died in a tragic road accident.
"I took to heart the words of Nida Fazli's poem, Apna gham le ke kahin aur na jaaye jaye. Ghar mein bikhri hui cheezon ko sajaaya jaye (let us not take our anguish elsewhere. Let us make beautiful the scattered objects at home).
Perhaps it was in the fitness of things that Nida Fazli died on February 8, which was also Jagjit Singh's birth anniversary.
Image: Poet Nida Fazli. Photograph courtesy: Nida Fazli's Facebook page.
---
'The language he used was neither Hindi nor Urdu, but Hindustani'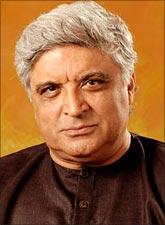 'Nida Fazli could make a connection not only with Mir Taqi Mir or Mirza Ghalib, he could find a link with Tulsi, Kabir and Mirabai also,' poet and lyricist Javed Akhtar tells Subhash K Jha.
This is a huge loss. I knew Nida Fazli very closely. I have great respect for him. He was a very original thinker.
'All the anthologies of the 1960s and 1970s invariably mention him with respect and affection.
'He was one of my father (poet-thinker Jan Nissar Akhtar)'s protégés. He spent a lot of time with my father. He was very close to him, so I inherited Nida Fazli.
We became friends and when I started writing poetry he was definitely one of those seniors who encouraged me.
'Nida was a poet with a highly original mind and style, and he practised a highly unorthodox approach to poetry. His poems express thoughts that have not been expressed before.
'His language was accessible to both Urdu and Hindi-speaking people. Nida Fazli's language was a bridge between Urdu and Hindi.
'His poems are deeply rooted to the Indian poetic heritage. He could dig deep into the ancestry of poetry. He could make a connection not only with Mir Taqi Mir or Mirza Ghalib, he could find a link with Tulsi, Kabir and Mirabai also. Unhone dohe bahot likhe hain (he wrote a lot of couplets).
The language that he used was neither Hindi nor Urdu, it was Hindustani.
'I don't think he has written too many film songs. His contribution goes way beyond cinema.
'He avoided clichés in his poetry. He refused to conform to set patterns and would not say in his poetry what had already been said. Woh koi nayi baat lekar aate the (he used to emerge with a new thought).
'I met him last in Goa a month back where both of us had gone to attend a wedding. He was in fine health. We shared some valuable conversations and thoughts.
'Who was to know it would be our last meeting?'