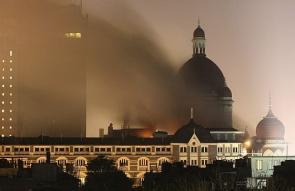 India may get access for the second time to Mumbai attack terrorist David Headley and his accomplice Tahawwur Hussain Rana, reports Vicky Nanjappa.
The United States is likely to give India access to once again question 26/11 attacks accused David Headley and his accomplice Tahawwur Hussain Rana.
Sources in the National Investigation Agency told rediff.com that further interrogation of Headley was crucial, especially since fresh evidence has emerged following the arrest of Zabiuddin Ansari alias Abu Jundal, a key handler of the 2008 Mumbai terror attacks.
The arrested Lashkar-e-Tayiba operatives have revealed the modus operandi of the strikes. Now, the NIA is looking at more leads on the three Pakistani army officials suspected to be involved in waging terror against India.
Both Headley and Jundal have named Major Iqbal, Major Sameer Ali and Colonel Shah of the Pakistani army. According to the confessions of the duo, Major Iqbal provided Rs 25 lakh for the boat that was initially purchased for the 2008 attacks. They spoke about the role played by the three officers, terming them the "architects" of the attack. The army men had provided financial and logistic help and also maritime training to the 10 terrorists who attacked Mumbai, both Headley and Jundal told the NIA in separate confessions.
"In the light of Jundal's confession, it is important that we quiz Headley and re-verify the facts. If Headley reveals more about the role of Pakistani army officers it will add pressure on the US to take a tougher stand in the case .We will also look to establish the link between Jundal and Headley," an NIA official said.
Jundal, during his interrogation, had told the NIA that he knew Headley and was aware about the role he played in the attacks. The first time Jundal met Headley he introduced himself as Dawood Khan.
The NIA is also expected to get access to Rana. Though the agency does not have a strong case against him, his interrogation is crucial since he has been named in the chargesheet which was submitted to the Delhi special court.
All the information that Indian investigators have gathered on Rana is through Headley's confessions. The case against him is weak since he was let off by the US court in the 26/11 case. Rana has been sentenced for 14 years providing material support to the LeT and for backing a plot to strike a Danish newspaper. His role in 26/11 has not been established.
Headley and Rana will not be questioned independently, but in the presence of the former's lawyers and Federal Bureau of Investigation officials.
Image: A burning Hotel Taj Mahal in Mumbai during the 26/11 attacks| Photograph: Arko Dutta/Reuters