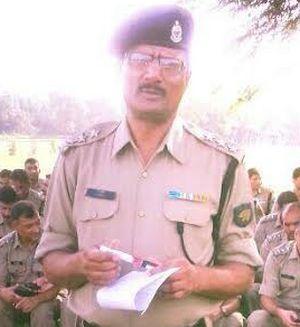 Cops investigating the murder of National Investigation Agency officer Mohammad Tanzil Ahmed have narrowed down to two suspects who attended the wedding of the officer's niece on Saturday. Ahmed was returning home from the wedding, along with his wife and children, when he was shot dead by two assailants.
The Uttar Pradesh police has zeroed in on the two suspects after the family of members of the officer failed to identify them in the video footage of the event. Police suspects the assailants were tracking Ahmed throughout the event and they finally attacked him on his way back, when he slowed down his car near a damaged culvert barely 200 metres from his home in Seohara, Bijnor district on Saturday.
The attackers, who were following Ahmed on a motorcycle, fired more than 20 bullets which also seriously injured his wife Farzana. The children escaped unharmed as they hid behind the seat. Farzana, 40, who was shot in stomach and legs, is undergoing treatment at a Noida hospital.
Cops are also investigating whether personal enmity or property dispute was a reason behind the murder. They say that firing more than 20 bullets indicates the attackers' intense desire to kill him.
Ahmad, 45, who has been with the NIA ever since the organisation was formed in February 2009, had been investigating many cases, especially related to banned Indian Mujahideen terror outfit. His superiors termed him as a thorough professional in intelligence gathering as well as investigation.