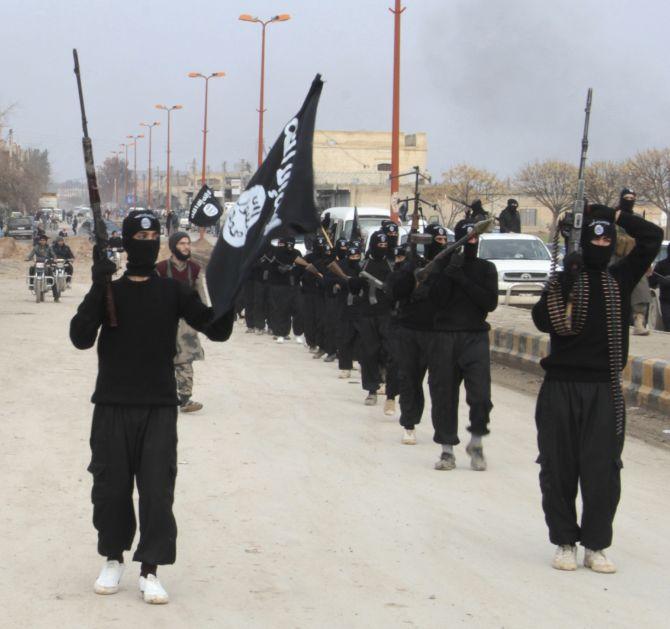 National Investigation Agency and central security agencies have arrested 14 people who were allegedly planning to carry out attacks ahead of Republic Day, as the crackdown continued for the second day on Saturday on a suspected terror group owing allegiance to banned Islamic State.
All the 14 were being produced in local courts in their respective states for a transit remand to the national capital where they would be questioned extensively by a team of NIA and central security agencies, home ministry spokesman said.
Those arrested on Saturday included Rizwan Ali, self-styled Naib-Ameer (deputy chief) of 'Janood-ul-Khalifa-e-Hind' (Army of Caliph in India), a terror group created with ideologies similar to that of IS.
The multi-city raids, which took place in six states, continued till the wee hours when Imran Mozzam Khan Pathan of Aurangabad in Maharashtra was arrested.
Rizwan, who is a resident of Khushi Nagar in Uttar Pradesh, was picked up from Hyderabad and brought to Mumbai enroute to Delhi for interrogation.
The NIA had registered a case in 2015 on the directions of the Centre after "credible information" was received that the Islamic State or Dawlah-al Islamiyah fil-Iraq wa-sh Sham, an international terrorist organisation, has been engaged in radicalisation of Indian youths and motivating them to join the terrorist organisation.
Due to this, "some Indian nationals have already joined it or are in the process of joining it for committing terrorist acts in the conflict zone of Iraq, Syria and Libya.
The IS is also contemplating to expand its activities to other parts of the world including India," the NIA FIR said.
The arrests were made in connection with the ongoing investigation in this case following simultaneous searches and raids conducted at 12 locations in six cities --Bangalore, Tumkur, Mangalore, Hyderabad, Mumbai and Lucknow on Friday with the support of local police forces.
Circuits for detonating explosives were recovered during the searches.
The NIA said several mobile phones, laptops, unaccounted cash, jihadi literature and videos and certain material for preparation of bombs were recovered from these places.
"These individuals were planning and making efforts to establish a channel of procurement of explosives/weapons, identify locations to organise training camps including training of firearms, motivate new recruits to target police officers, foreigners in India and to carry out terrorist activities in various parts of India," it said.
The NIA said it received information that certain individuals from different cities in the country were in the process of organising themselves to commit terrorist acts in different parts of the country.
They said the suspects had been under surveillance for quite sometime and the decision to arrest them was taken as the group received 'instructions' for carrying out 'some sensational' attacks in the country.
Giving details of the persons arrested by it, the NIA said four were from Karnataka.
Syed Mujahid is a resident of Tumkur, Asif Ali alias Arman Saani, 21, Suhail Ahmed alias Sohail alias Hafes Saab, 23, and Muhammed Abdul Ahad alias Bade Amir alias Sulaiman, 46, are from Bengaluru.
Others arrested have been identified as 20-year-old Mohammad Aleem (from Lucknow), 33-year-old Mohammed Obedullah Khan alias Obaid alias Talha and 24-year-old Abu Anas, both from Hyderabad, and Mohammad Hussain Khan alias Jamil, resident of Mazgaon, Mumbai, the NIA said.
© Copyright 2021 PTI. All rights reserved. Republication or redistribution of PTI content, including by framing or similar means, is expressly prohibited without the prior written consent.