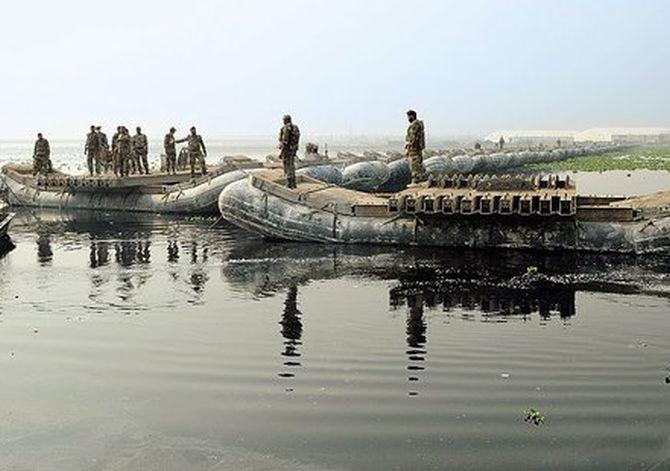 The National Green Tribunal will continue to hear on Wednesday the plea seeking to stop construction of temporary structure on the floodplains of Yamuna for Sri Sri Ravi Shankar's Art of Living World Culture Festival in Delhi.
A bench headed by NGT chairperson Swantanter Kumar had asked the ministry of environment and forest on Tuesday to file an affidavit on Wednesday and tell why no environmental clearance is needed for raising temporary structures.
The direction came after counsel appearing for the ministry said that they have found no debris at the site, when an expert team had visited. Counsel added that as per Environment Impact Assessment notification 2006, no environment clearance is needed for temporary structures.
Meanwhile, the ministry of home affairs has asked the Delhi police to be on high alert in view of the Art of Living's mega event beginning on Friday. The MHA has warned of terror strikes and a stampede-like situation at the event.
According to reports, the MHA is worried about a stampede-like situation at the event as there is 'no evacuation plan' in case of an emergency.
Although Sri Sri has said that 'not a single tree has been cut during the preparations of the event' and AOL intends to build a biodiversity park on the Yamuna floodplains.
The NGT has also questioned the Centre as to why no environmental clearance is required for erecting structures in Yamuna floodplains for Sri Sri Ravi Shankar's three-day World Culture Festival.
The Green Panel also questioned the building up of pontoon bridge by the army on river Yamuna for the festival, and asked the Delhi Development Authority counsel as who gave the permission for setting it up.
Image: Indian Army soldiers build a pontoon bridge over the Yamuna for the Art Of Living World Culture Festival. Photograph: Kind courtesy Santhosh Kottayi/@kottayimavoor/Twitter