Gujarat will host the next round of G20 meetings from March 27 to April 4, during which three conclaves will be held in the state on a range of issues, where delegates from different countries will converge for participation, an official said.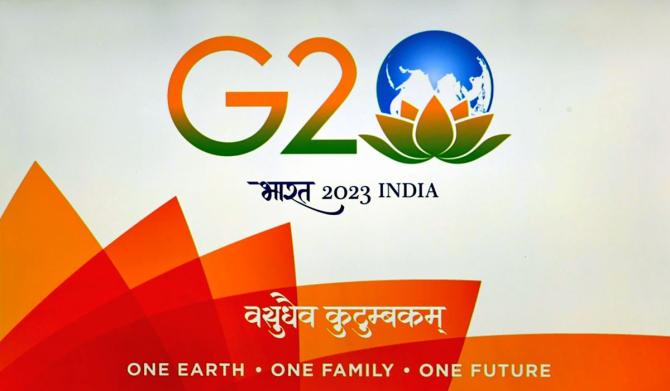 India currently holds the year-long presidency of the Group of 20 (G20), which comprises 19 countries across continents and the European Union (EU).
Of these three upcoming events in the state, the first meeting on 'Environment and Climate Sustainability Working Group (ECSWG)' will take place between March 27 and 29 in Gandhinagar, a senior IAS officer, who is coordinating G20 events in Gujarat, said on Tuesday.
'This is the second meeting of ECSWG. It will be inaugurated by G20 Sherpa Amitabh Kant in the presence of several senior Central government officials and subject experts,' said Mona Khandhar, Principal Secretary (Economic Affairs), state finance department.
Some of these dignitaries include Leena Nandan, Secretary, Ministry of Environment, Forests & Climate Change, Debashree Mukherjee, Additional Secretary -- Water Resources, Ministry of Jal Shakti and G Ashok Kumar, Director General, Mission for Clean Ganga, she told reporters.
Officials from the Central Water Commission, the International Union for Conservation of Nature (IUCN), the National Centre for Sustainable Coastal Management (NCSCM), the United Nations Development Programme (UNDP), the United Nations Environment Programme and the Indian National Center for Ocean Information Services would also participate, said the senior bureaucrat.
"Representatives from nearly 30 countries, including the United States, Argentina, Brazil, China, France and Germany, will take part in the three-day event," said Khandhar.
On the first day, discussions will be held on the subject 'Best Practises on Water Resources' and other related topics. Later, guests will be taken to the famous Adalaj Stepwell, Narmada canal syphon on the Sabarmati river and the Sabarmati Riverfront.
On March 28, technical sessions would take place on five focus areas - climate resilient infrastructure, groundwater management, water sanitation and hygiene, climate change mitigation and resource efficiency and circular economy, she said.
On March 29, technical sessions will be organised on topics related to oceans, sustainable blue economy, conservation of marine and coastal eco-system and marine spatial planning among others, the IAS officer said.
As per a release by PIB (Press Information Bureau), the second meeting in this series on the topic 'Disaster Management' will be held in Gandhinagar from March 30 to April 1.
In January and February, Gujarat hosted a series of meetings related to G20, one of them on tourism.
© Copyright 2023 PTI. All rights reserved. Republication or redistribution of PTI content, including by framing or similar means, is expressly prohibited without the prior written consent.