The city of Newark in the United States state of New Jersey has rescinded a sister-city agreement with the so-called 'United States of Kailasa', founded by Indian fugitive Nithyananda, citing deceptive circumstances surrounding the fictional country and terming the incident as regrettable.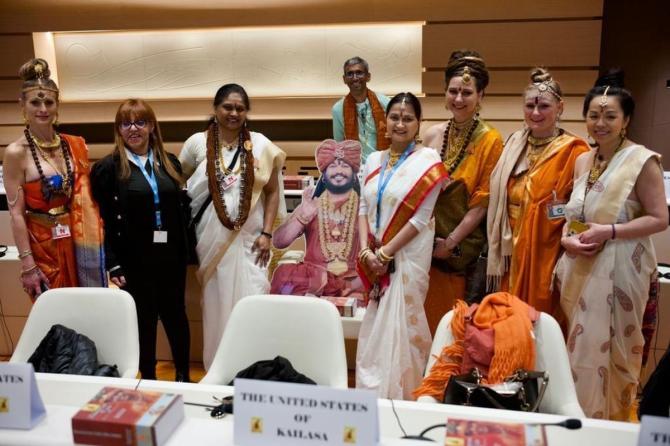 Press Secretary in the Department of Communications, City of Newark, Susan Garofalo told PTI in an email that as soon as 'we learned about the circumstances surrounding Kailasa, the City of Newark immediately took action and rescinded the sister city agreement on January 18'.
"Based on deception, the ceremony was groundless and void. Although this was a regrettable incident, the City of Newark remains committed to partnering with people from diverse cultures in order to enrich each other with connectivity, support, and mutual respect," Garofalo said.
The sister-city agreement between Newark and the so-called USK was entered into on January 12 this year and the signing ceremony took place at City Hall in Newark.
Self-proclaimed godman and fugitive Nithyananda claims to have founded the 'United States of Kailasa (USK)' in 2019 and according to its website, counts 'two billion practising Hindus' among its population.
Nithyananda is wanted in India on several charges of rape and sexual assault allegations he denies.
Newark Councilman at Large Luis Quintana sponsored the motion to rescind the agreement.
He said during official proceedings that going forward any city entering into a sister city agreement has to be in good standards of human rights.
"We cannot bring Sister Cities International into an issue where there is controversy. This is an oversight, cannot happen any longer," he said adding that Newark cannot put itself in a situation where there is a sister city that has no human rights.
He said going forward, it must be ensured that while sister cities are encouraged, agreements cannot be entered into with governments that don't have human rights.
Last month, USK representatives attended two UN public meetings in Geneva - a general discussion on Equal and inclusive representation of women in decision-making systems' organised by the Committee on the Elimination of Discrimination against Women (CEDAW) on February 22.
They also attended the general discussion day on the General Comment on economic, social and cultural rights and sustainable development on February 24, hosted by the Committee on Economic, Social and Cultural Rights (CESCR).
Responding to questions on USK's participation at the UN forums, the Office of the United Nations High Commissioner for Human Rights (OHCHR) said registration for such public events is open to NGOs and the general public.
Anyone can submit information to the treaty bodies, who will use their judgment to determine the credibility of the submissions received.
On the day of the CEDAW general discussion, USK members were prevented from distributing promotional material in front of and inside the conference room.
Their written submission to CEDAW will not be published by the Committee as it is irrelevant to the topic of the general discussion, OHCHR had said.
© Copyright 2023 PTI. All rights reserved. Republication or redistribution of PTI content, including by framing or similar means, is expressly prohibited without the prior written consent.