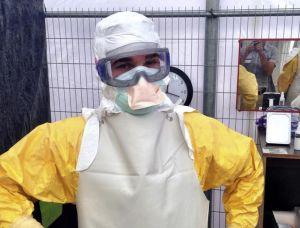 A New York doctor, the first person in the city to be diagnosed with Ebola, was released from hospital today after fully recovering from the virus, as Mayor Bill de Blasio declared that the city is now Ebola-free.
"Today I am healthy and no longer infectious," Craig Spencer, 33, told a news conference amid cheers and applause after being discharged from the Bellevue Hospital where he had been receiving treatment since October 23.
"My early detection, reporting and now recovery from Ebola speaks to the effectiveness of the protocols in place for health staff returning from West Africa," Spencer said.
Spencer was flanked by de Balsio, his wife Indian-American physician Ramanathan Raju who is the city's Commissioner of Health and Hospitals Corporation (HHC) and staff from the Bellevue hospital.
Giving Spencer an "official mayoral hug," de Blasio said "It is a good feeling to hug a hero and we have a hero here in our midst."
The Mayor said Spencer is "Ebola-free, and New York City is Ebola-free."
Spencer said he is proud to have been part of the team of over 3,000 health care providers working with Doctors Without Borders to respond to the Ebola outbreak in West Africa.
He however added that his infection represents only a fraction of the more than 13,000 reported cases of Ebola in the worst hit countries of Sierra Leone, Liberia and Guineea.
He urged the community to turn its attention back to West Africa and ensure that health workers and volunteers do not face "stigma and threats" when they return home after serving Ebola patients.
New York Governor Andrew Cuomo said Spencer's recovery is "proof that proper preparedness and erring on the side of caution can save lives."
He said working with partners in the city government, New York State was able to learn from the "unfortunate" events in Dallas, where a Liberian national Thomas Duncan succumbed to the deadly Ebola virus.
Acting State Health Commissioner Howard Zucker commended the healthcare workers and hospital staff who assisted in Spencer's care and treatment.
Spencer had treated Ebola patients in Guinea and returned to the US last month after which he was diagnosed with having the deadly virus, becoming New York city's first diagnosed case.
With Spencer's recovery, there is currently no case of Ebola in the US.
Indian-American physician Ramanathan Raju is at the helm of New York City's response team put in place to tackle Ebola.
Spencer's diagnosis had sparked fear among city residents and prompted administration officials to put in place stringent measures for travellers entering the city.
According to latest estimates by the World Health Organisation, there have been 13,268 reported Ebola cases in eight affected countries since the outbreak began, with 4960 reported deaths.