New York Mayor Bill de Blasio has announced the appointment of Nisha Agarwal, one of the leading advocates in the city for the immigrant communities, as commissioner of the Mayor's Office of Immigrant Affairs.
Agarwal was appointed along with two others -- Lorraine Grillo as President of School Construction Authority and Steve Banks as commissioner of the Human Resources Administration -- building on De Blasio's promise of creating a diverse, progressive and effective government for all New Yorkers.
"These are three great New Yorkers. They are all deeply committed to public service and to lifting up people in need across the five boroughs," Blasio said in a statement.
"And just as importantly, these are people who get things done. They are energetic, dynamic leaders who are going to move mountains to make life better for working New Yorkers and their families."
A daughter of Indian immigrants, Agarwal earned an undergraduate degree (summa cum laude) from Harvard and advanced studies at Oxford.
"And it is a statement on who Nisha is that after that kind of education -- obviously any number of options being available to her, including some that might have been very good for her bank account, she chose instead to put her energies to work on behalf of the most marginalized people in our society," the mayor noted. "She became one of the leading advocates in the city for our immigrant communities."
As director of the health justice program of New York Lawyers for the Public Interest, where she started her legal career as a Skadden Public Interest Fellow, Agarwal was the architect of important reforms in New York City and state policies related to providing additional health care access for those that had limited English proficiency.
She was involved in drafting the Language Access in Pharmacies Act, to mandating pharmacies to provide interpretation services for speakers of the seven most common languages in the city.
She was co-founder and deputy director of the Center for Popular Democracy, also a non-profit. That was dedicated to advancing pro-immigrant policies, pro-equality policies, and social justice policies at the grassroots level and on the national stage.
Most recently, Agarwal played a leading role in establishing the Immigrant Justice Corps, a new non-profit that recruits recent law school graduates and partners them with non-profit legal services providers to offer legal representation to undocumented immigrants.
De Blasio also referenced her family history -- from the Brooklyn resident's family in India to her growing up in Fayeteville, just outside of Syracuse, New York.
'They're a family that has an extraordinary tradition, and a tradition that Nisha continues,' he said. 'This is a family with a true passion for social justice. She grew up hearing stories of her grandfather's role in the non-violent struggle for Indian independence, led by Mahatma Gandhi.'
'So it's fair to say that Nisha had extraordinary inspiration from early in her life. And she carried it through. And you'll see in the work she does, she doesn't do anything halfway. So she set her sights high.'
Agarwal will be charged with seeing through the administration's immigration agenda.
Elaborating her role, De Blasio said, 'I think it's well known that one of the priorities I hold is changing the policies of this city government to embrace all our people, including the almost half million New Yorkers who happen to be undocumented immigrants. And one of the ways we're going to do that is with the establishment of a municipal ID card program. And that is something that Nisha is well known for her expertise on. That's just one of the pieces we expect her office to focus on.'
'We also want to reach out to immigrant-owned small businesses and help them to thrive and help to end the punitive policies that were addressed to them in the previous administration, including the unfair fines that they often suffered. We want to do everything we can to help get legal assistance to undocumented immigrants who are often subject to fraud by folks who try to take advantage of their status.'
'There's so much that the Office of Immigrant Affairs can do to help our fellow New Yorkers,' the Mayor said. 'But we knew for it to be effective, we needed someone with the experience, with the drive, and that sense of conscience of what is right and wrong. And what we needed to do to help those who often have been forced to live in the shadows.'
'So I'm very proud to introduce Nisha Agarwal as our new commissioner for the Office of Immigrant Affairs.'
Agarwal in her acceptance speech said this was really the culmination of so many parts of her life.
'The lessons that I've learned in the course of that life -- that the fire in the belly for better opportunities to speak up for progressive values, is universal,' she said. 'And that it's a fire that burned in my grandfather as he marched for freedom alongside Mahatma Gandhi in India.'
'And it's a fire that crossed borders with my parents when they immigrated to the United States. And it was passed down through the generations to my brother and to me, and it is what has animated my career in public service and in public interest for many years now.'
'This is an incredible honor and responsibility. Many of us are the product of immigrant families that made it. Through education and economic opportunity, they built lives and helped build the city in the process. It's all of our jobs to keep those same doors open for others.'
'More than three million New Yorkers were born in another country. We cannot succeed as a city unless they also succeed.'
'And I'm so honored and delighted to join an administration that puts the needs of all immigrants, regardless of immigration status, at the center of its agenda.'
Agarwal, vowing to work towards making New York a safe, open and fair city, added, 'This work is part of who I am. It's embedded in the values I was taught as a child. Those same values make New York City great. I am committed to Mayor de Blasio's vision of making New York City the gateway to opportunity for all immigrants.'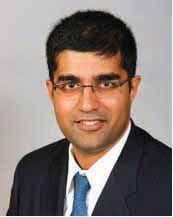 Meet NYC's director, Children and Youth Services
Mayor Bill de Blasio has appointed Udai Tambar, executive director, South Asian Youth Action, as director of the City's Children and Youth Services.
The Queens resident joined the administration March 3, reporting to Lilliam Barrios-Paoli, deputy mayor, Health and Human Services.
Tambar, who went to Princeton University's Woodrow Wilson School of Public and International Affairs and Cornell University, was SAYA!'s executive director during a period of exceptional growth for the organisation -- doubled its budget to nearly $2.5 million, increasing staff and almost tripling the number of its program sites to 14.
He has served as assistant deputy commissioner, parent and community engagement, at the city's Human Resources Administration, managing programs that help low-income fathers be more involved in the lives of their children.
His NYC government experience includes managing the City Council's New American Youth Initiative for Council Member Ken Fisher, working for the deputy chancellor of management and policy at the Board of Education and serving as a senior policy advisor for the Workforce Development Division of the Department of Small Business Services.
Usha Saxena, board chair, SAYA! said, 'His contribution to SAYA and our community cannot be measured. Having a person like Udai, whose background is steeped in strengthening youth, families and communities, is a boon for all New Yorkers.'
Image: (Top) New York Mayor Bill de Blasio introduces Nisha Agarwal, right. (middle) Udai Tambiar