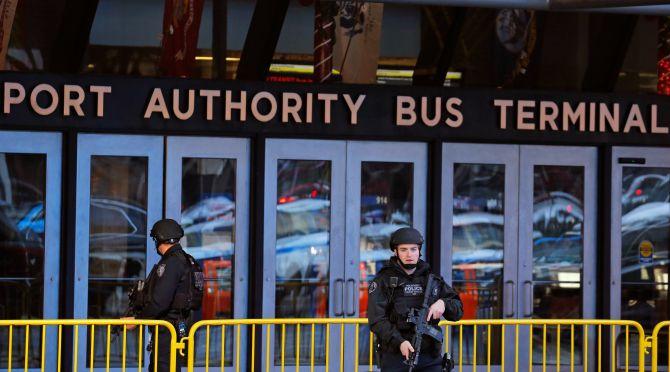 New York police on Tuesday charged an Islamic State-inspired Bangladeshi-origin man with supporting terrorism, a day after he triggered a blast with a crude homemade device at a metro station that injured three people.
Akayed Ullah, the 27-year-old suspected bomber, had wires and a pipe bomb strapped to his body. The device exploded prematurely on Monday between two subway platforms near Port Authority, which is America's largest bus terminal.
The New York Police Department tweeted that Ullah was charged with criminal possession of a weapon, supporting an act of terrorism and making a "terroristic threat".
Ullah is reported to be in a serious condition in hospital after suffering burns in the explosion. Three other people suffered minor wounds in the blast during rush hour.
The suspect was taken into custody after the device partially exploded.
Reports say he used piping, nails, a 9-volt battery and Christmas lights wire to build the device. It was affixed to his body with Velcro straps.
The suspect's home in the New York City borough of Brooklyn is being searched.
Ullah acted alone, police said, adding that the explosion was recorded on surveillance video.
According to a law enforcement official, through his comments to investigators, Ullah indicated he was prepared to die. The source also said the suspect was wired up with the self-made device during his entire trip on the subway system.
He had pledged allegiance to Islamic State, according to one law enforcement official with direct knowledge of the investigation told CNN, and said he acted in response to Israeli actions in Gaza.
No group has claimed responsibility for the explosion so far, though it is being treated as terror-related.
John Miller, NYPD deputy commissioner for intelligence and counter-terrorism, said Ullah was not on the FBI radar.
"This is an individual who came from Bangladesh, was living here, went through a number of jobs, was not particularly struggling financially or under any known pressure, who was not on our radar at the NYPD, not on the FBI radar, and he's somewhat characteristic of what we've been seeing across the world which is somebody who turns up one day out of the blue," Miller told CBS.
Miller said it is difficult to stop a lone wolf attack.
"Where the conspiracy is within the confines of their own mind, and that's a very hard place to get to. When you combine that with the fact that now these (cellphone) devices are encrypted so if you bring it to the manufacturer with a court order, even they've designed it so that they can't open it," Miller said.
Ullah came to the US in 2011 from Bangladesh as part of the family visa. From 2012 to 2015 he had a city taxi driving license. He was currently working for an electric company.
Ullah told investigative officers that he made the explosive devise at his work place, which as per some media reports was an electric company.
"You find yourself increasingly behind the eight ball as the terrorist organisations seize on this and increase the breadth and space of that propaganda that's meant to reach those people who are searching for something," Miller said.
Miller said Ullah raised concerns about would-be terrorists' ability to make devices at home.
"If you look at what he attempted to make that bomb out of and what he attempted to make it into, it didn't function with the force and power that the recipe intended it to. I think what we saw yesterday was something that could have been far, far worse," Miller added.
According to The New York Times, he chose the location of subway because of its Christmas-themed posters, recalling strikes in Europe against Christmas markets, and set off his bomb in retaliation for US airstrikes on Islamic State targets in Syria and elsewhere, several law enforcement officials said.
Attorney General Jeff Sessions said that the attempted terrorist attack by an immigrant is a failure of logic and sound policy not to adopt a merit-based immigration system.
"The President (Donald Trump) has asked Congress to work with him on ending the diversity lottery and chain migration. He has proposed switching to a merit-based system of immigration similar to the Canadian and Australian systems.
"That means welcoming the best and the brightest and turning away not only terrorists but gang members, fraudsters, drunk drivers and child abusers. Such a merit-based system would make us safer and welcome individuals who would be best able to assimilate and flourish in our country," he said.
'NY bomber had no criminal record in Bangladesh'
Akayed Ullah had no criminal record back home, a police official said, even as Dhaka vowed "zero tolerance" against terrorism.
"Passports to one is issued after verifying his or her past records and the suspect named for the New York attack had no criminal record," the official said.
Ullah, who moved to the US seven years ago, has an address in Brooklyn, an area with most residents from Bangladesh.
He had entered the US through "extended-family chain migration," a system President Donald Trump is seeking to end that allows families to sponsor relatives to come to the US.
He last visited Bangladesh in September, Dhaka Tribune reported.
The Bangladesh embassy in Washington condemned the attack in New York reiterating its "zero tolerance" stance against terrorism.
"Government of Bangladesh is committed to its declared policy of 'zero tolerance' against terrorism, and condemns terrorism and violent extremism in all forms or manifestations anywhere in the world, including yesterday's incident in New York City," the embassy said in a statement shortly it became known that the attacker was of Bangladeshi-origin.
"A terrorist is a terrorist irrespective of his or her ethnicity or religion, and must be brought to justice," it added.
Bangladesh has been waging a war against homegrown extremism in the wake of numerous attacks by radical groups in recent years.
On July 1, terrorists stormed a Dhaka cafe in which 22 people, including 17 foreigners, were killed. An Indian girl was among those killed in Bangladesh's worst terror attack claimed by the Islamic State group.
The secular government of Prime Minister Sheikh Hasina has vowed to root out extremism but says international radical groups do not operate inside Bangladesh.
-- Anisur Rahman/PTI
IMAGE: Police officers stand outside the New York Port Authority Bus Terminal after reports of an explosion. Photograph: Lucas Jackson/Reuters