In a relief to Sri Lanka's embattled leader Ranil Wickremesinghe, parliament's speaker refused to endorse his sacking as the prime minister, even as President Maithripala Sirisena on Sunday asserted that the appointment of Mahinda Rajapaksa as his successor was in strict accordance with the Constitution.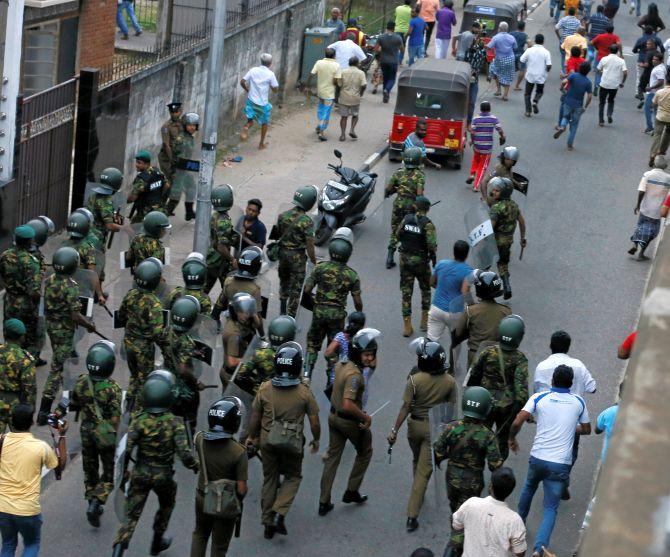 The political crises however, took an ugly turn when bodyguards of Petroleum Minister Arjuna Ranatunga, a loyalist of Wickremesinghe, fired live rounds at the supporters of the new premier Mahinda Rajapaksa, leaving one person dead.
One person succumbed to his injuries and two others were hospitalised in the shooting incident and a security personnel was arrested at the Ceylon Petroleum Corporation premises in Dematagoda following a tense situation on Sunday, police said.
The incident took place when the cricketer-turned-politician visited the CPC office, with several Ceylon Petroleum Corporation workers objecting to his presence at the office.
When Ranatunga entered the building the supporters of the new prime minister Rajapaksa took exception to him visiting the office and shouted slogans.
When they were not allowed to move out, shots were fired which injured three persons. Unconfirmed reports said that two of Ranatunga's security personnel have been arrested.
Ranatunga is a supporter of Wickremesinghe who was sacked by Sirisena.
Wickremesinghe holds his sacking was illegal and unconstitutional.
Earlier, in a letter to Sirisena, speaker Karu Jayasuriya backed the ousted prime minister's request to retain his privileges and security until another candidate could prove a majority, saying it was "democratic and fair."
He also questioned the president's decision to suspend parliament till November 16, saying it will have "serious and undesirable" consequences on the country.
Sirisena on Friday night sacked Wickremesinghe and appointed former strongman Rajapaksa as the new prime minister.
Next day, Sirisena suspended parliament till November 16 after Wickremesinghe, who had termed his sacking as illegal and unconstitutional, sought an emergency session to prove his majority.
The president also withdrew Wickremesinghe's personal security and vehicles in order to accord them to his 72-year-old successor, who staged a dramatic political comeback.
In his first address to the nation after sacking Wickremesinghe, Sirisena said his former ally's political conduct since the victory in 2015 elections was unbecoming.
"He appeared to treat Sri Lanka's future as a joy ride for a coterie of people around him who had no sense of the common man's thinking," he said.
"He completely destroyed the concept of good governance while corruption and waste became rampant. He was making arrogant arbitrary decisions making a mockery of collective responsibility," Sirisena charged.
"There was a huge gap in policy agreement between the two of us. I believe the cultural and policy differences between us contributed to this political and economic crisis," he said.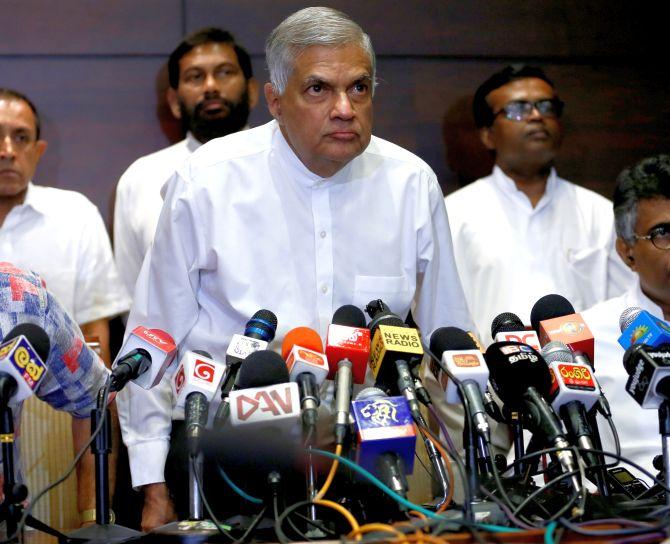 Sirisena also accused the United National Party leader of treating very lightly the alleged plot to assassinate him.
The president last week accused his unity government partner of Wickremesinghe's UNP of going slow on the investigations after a man named Namal Kumara in mid September disclosed the alleged plot to assassinate him and former defence minister Gotabhaya Rajapaksa.
"Having taken into consideration all crisis, the political and economic as well as the assassination plot on me, I was only left with one alternative which was to appoint former President Mahinda Rajapaksa as the prime minister," Sirisena said.
Rejecting Wickremesinghe's allegation that his sacking was unconstitutional and illegal, he said, "I must make it very clear that the new appointment (of Rajapaksa) was made on expert legal advice in strict accordance with the Constitution."
Sirisena's remarks came after the Speaker urged him to restore Wickremesinghe's privileges as the leader of the government who has "obtained a mandate to secure democracy and good governance".
Jayasuriya said a prorogation of parliament should be one in consultation with the Speaker.
Sirisena's decision to suspend the Parliament until November 16 was seen as a an effort to coerce legislators into supporting Rajapaksa.
Wickremesinghe has refused to vacate the prime minister's official residence-cum-office of Temple Trees.
The political developments, which has thrown the country into a constitutional crisis, unfolded after Sirisena's broader political front United People's Freedom Alliance announced that it has decided to quit the unity government with Wickremesinghe's UNP.
Sirisena and Wickremesinghe had joined to form a government of national unity in 2015 to bring in constitutional and governance reforms including a new Constitution to address the long-standing issues of the Tamil minority.
Sri Lanka nearly faced economic sanctions from the West over Rajapaksa' brutal military crackdown on the banned Liberation Tigers of Tamil Eelam.
The LTTE sought a separate Tamil homeland in the northern and eastern provinces of the island nation for nearly 30 years before its collapse in 2009 after the Sri Lankan Army killed its supreme leader Velupillai Prabhakaran.
© Copyright 2021 PTI. All rights reserved. Republication or redistribution of PTI content, including by framing or similar means, is expressly prohibited without the prior written consent.