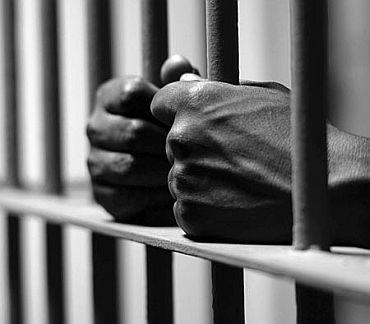 A week after formulating stringent guidelines for granting parole to the convicts, Maharashtra government appears to be in a dilemma with reports of some convicts at Yerwada central prison near Pune threatening to launch a protest.
After Sajjad Moghul, convicted for murder of Mumbai-based lawyer Pallavi Purkayastha, jumped parole, the government came up with new guidelines based on the Centre's 'model prison manual'. Under the new rules, convicts, in the cases of extreme emergency, can apply for parole of 45 days without any further extension.
Speaking to reporters, Principal Secretary (Appeals and Security, Home) Vijay Satbir Singh said the new rules are applicable to only two per cent of the convicts, those who are convicted for serious crimes like rape and murder.
"There is a reddressal mechanism in the form of a high-powered committee set up by the Bombay High Court to deal with practical difficulties," he said. "If the problems are genuine, required action can be taken."
Justifying the stringent rules, he said the government could not imperil the safety of ordinary citizens.
"The government needs to ensure that the convicts, while out on parole, do not disturb the peace in the society," he said.
Singh also clarified that the new guidelines were not applicable to undertrials.
"The guidelines were made stringent so as to prevent convicts like Moghul from jumping the parole," Singh said.
Attempts to dilute the guidelines will be counter-productive, he said, adding that "basic architecture" of the new policy and its "core" will remain the same, even if there is some tinkering.
Tracing Moghul was becoming difficult due to the current unrest in Jammu and Kashmir from where he hails, Singh said.
Earlier parole was granted for 30 days with provision of further extensions.
"If the convicts face any problems these can be looked into by the grievance redressal mechanism set up by the HC," Singh said.
He said there are 54 prisons in Maharashtra which have about 30,000 inmates. Of these, 70 per cent are undertrials.
Nashik central jail, where Moghul was lodged, is the largest one and can accommodate 2,000 convicts. Singh said 41 convicts lodged in this prison have jumped parole since 2014.
© Copyright 2021 PTI. All rights reserved. Republication or redistribution of PTI content, including by framing or similar means, is expressly prohibited without the prior written consent.