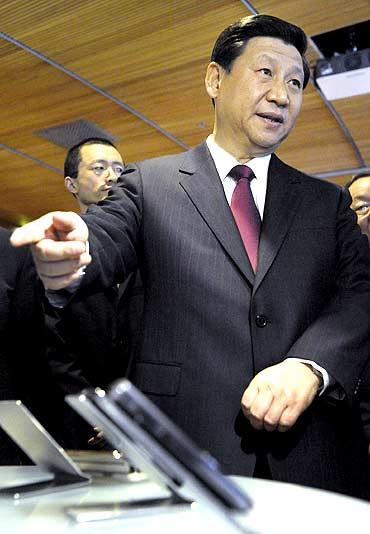 China's Communist party, which has ruled the world's most populous nation uninterrupted for six decades, has asked its officials to shun rhetoric to create a much-needed connect with the people, in an apparent makeover.
Setting new a direction to China's ageing Communist Party, the country's Vice-President Xi Jinping, who is favoured to succeed Hu Jintao, has called for creation of a tolerant environment to encourage new ideas.
More strikingly, he has asked party officials to get rid of lengthy speeches, often laced with empty words and rhetoric.
In a candid speech at the opening of the spring semester session of the Party School in Beijing last week, Xi told more than 900 officials and new cadre students that they must improve their speeches and writings promoting independent thinking.
"Rid of the speeches and documents of empty words and political jargon," he was quoted by China Daily as saying.
Xi, 56, who was also the president of the Party School, the highest institution to train officials of the Communist Party of China, warned that if current rhetorical styles continue to proliferate, the party's authority would be undermined and its officials would be increasingly isolated from public.
His message to officials, who seem caught in a web of confusion over the new system of capitalist economy with communist dictatorship, was to create tolerant environment in a changing China.
He said party leaders should learn "colloquial wisdom" from the public and make their speeches and articles more easily understood by common people.
"Officials should study the party's basic theories, new knowledge and ancient literature, and further their understanding of party principles," he said.
Xi is the new generation of Chinese Communist Party leaders who are inspired by the ideological turn around brought in by Deng Xiaoping, "the pragmatic" successor to hard line father of Chinese revolution, Mao Zedong.
The prominence being given to Xi's speech by the tightly controlled state media was seen here as an official endorsement to the ideas propounded by him to change the image of the party.
The party has been beset with charges of lavish life styles and corruption against some of its officials. Commenting on Xi's speech Li Baoshan, President of a party publication Qiushi Magazine, said "writing styles have become a big problem".
However, China has developed its own particular styles of speeches and writing and that the new proposals did not mean that its distinctive characteristics would be replaced or abandoned, he said.
Image: Chinese Vice-President Xi Jinping | Photograph: Reuters
© Copyright 2020 PTI. All rights reserved. Republication or redistribution of PTI content, including by framing or similar means, is expressly prohibited without the prior written consent.