A coalition government, led by National People's Party leader and outgoing chief minister Conrad Sangma, will be sworn-in on Tuesday morning in Meghalaya, while an all-party government, led by Nationalist Democratic Progressive Party (NDDP's) Neiphiu Rio will take oath later in the day in Nagaland.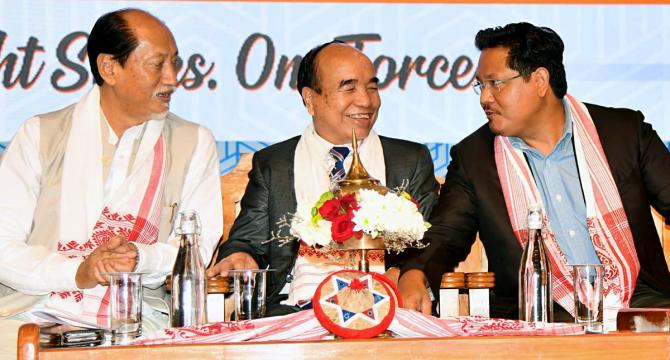 Prime Minister Narendra Modi, whose Bharatiya Janata Party is a junior partner in both the governments, is likely to attend the swearing-in ceremony at both the capitals of these two northeastern states, according to officials.
Seventy-two-year-old Rio, who will be chief minister for a fifth term, will lead an all-party government with no opposition in his state.
Nagaland had an all party government twice before but in both cases, parties came together in a bid to have a united front for tripartite talks with the central government and former rebels of the National Socialist Council of Nagaland-Isak Muivah to finalise a long-awaited peace accord in the border state.
The NDPP-BJP coalition, in the recently-concluded Nagaland polls, won 37 seats in the 60-member assembly.
All other parties in the state subsequently extended their letters of support to the Rio-led alliance.
In Meghalaya, the NPP-led alliance, with 45 MLAs supporting it, including two from the BJP, has staked claim to form government.
NPP head Conrad K Sangma, whose party won 26 seats in the February 27 elections, will take oath as the chief minister on Tuesday, along with other cabinet ministers.
On Monday, 58 newly-elected MLAs were sworn-in as members of the assembly with pro tem speaker Timothy D Shira administering the oath of office and secrecy to them.
Sangma, who will be sworn-in as the CM for a second consecutive term, was also present at the ceremony.