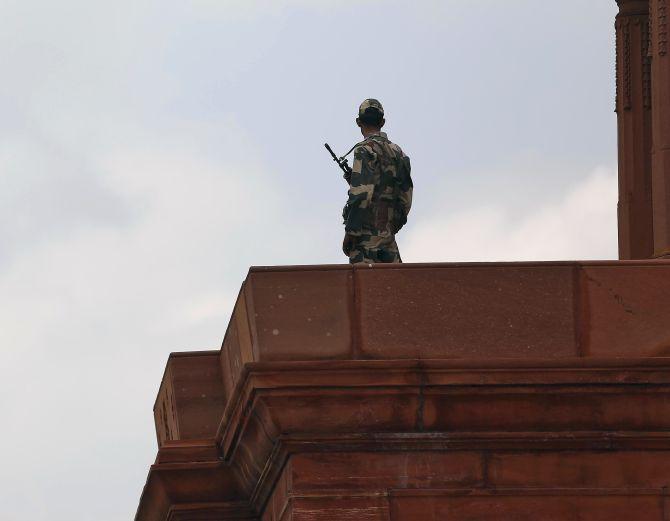 New Delhi is under a serious threat of aerial strikes from different terror outfits including the Islamic State, the ministry of home affairs said.
In a report, the ministry said that security agencies have taken necessary steps to foil any such attacks and have prepared a list of 15 key areas in the Indian capital that they fear might be targeted.
The areas under threat, include the prime minister's house, the residences of home minister and vice-president, Rashtrapati Bhavan, Rajpath, India Gate and the CGO Complex that houses the headquarters of key agencies such as the Central Bureau of Investigation, the Central Industrial Security Force and the Border Security Force.
Various objects like unmanned air systems, drones, and paramotors could be used to launch these attacks, the ministry said.
The security agencies have been instructed to shoot down any unidentified or suspicious flying object once it is declared 'non-friendly' by the Indian Air Force.
"Delhi is the most sensitive metro in India. It has been facing threats from various outfits. But aerial attack threats are now the main focus. Security and intelligence agencies have given reports about such attacks in Delhi. The government is coming out with a plan to counter the threat," a top government official was quoted by the Daily Mail as saying.
Last month, a suspected drone had been noticed at the airport in Delhi. However, security agencies are still unable to demystify the incident.