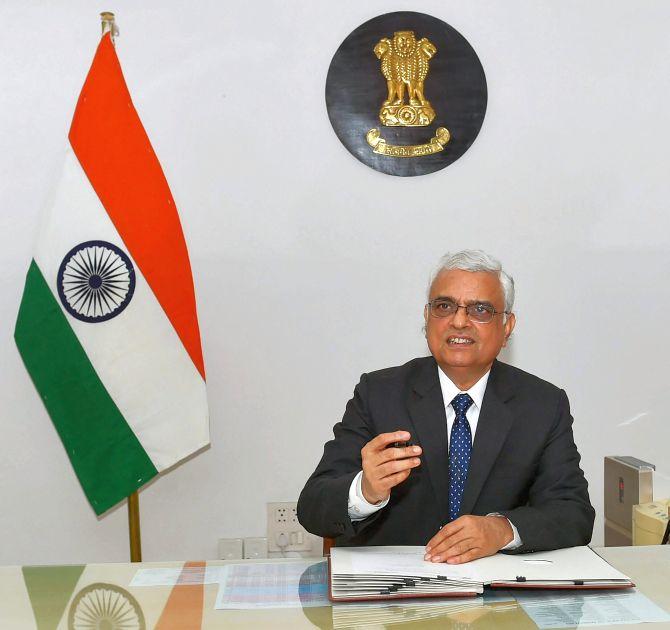 New Chief Election Commissioner Om Prakash Rawat on Tuesday defended the poll panel's decision to recommend the disqualification of 20 Aam Aadmi Party MLAs of Delhi for holding office of profit days before his predecessor A K Joti demitted office saying had it not been done, the matter would have remained "open" for re-hearing.
Asked whether there is a 'trust deficit' with regard to the Election Commission after the decision to delay Gujarat polls and the recent disqualification of AAP lawmakers, he said he does not "subscribe to that view. I feel that in our working, this kind of expression of adverse opinion is not indicative of trust deficit".
He said that the AAP MLAs were issued two notices by the EC but their response was not in the context of the notice served on them.
Refusing to comment further on the controversy, he said the matter is now before the Delhi high court.
He said three commissioners -- Nasim Zaidi, AK Joti and he himself -- had heard the case.
"The commission works either on unanimity or majority. When Zaidi retired, there was only one commissioner. The commission felt that this won't be decided unless the second commissioner is on board so they requested me and I came on board," he said.
Rawat had recused himself after AAP leader and Delhi Chief Minister Arvind Kejriwal had questioned his neutrality.
He said again a situation came up when Joti was retiring on January 22 and he would be alone and the matter would remain open for re-hearing.
"So either you decide or you leave it open. Already it had taken over two years," he said.
The president had signed on the opinion of the EC on Saturday last disqualifying the AAP MLAs.
On AAP's allegations, that its MLAs were not given a chance to respond by the EC before they were disqualified, he said the Commission had issued them two notices.
"They responded. But it was not in the context of the notice. The notices were very comprehensive -- whatever you want to say, whatever want to give... Only thing is that since this matter is sub judice, we should not be talking about his any further," the CEC said.
To a question on whether the EC should have heard the matter at all as the AAP had already moved the court, Rawat said, "Unless there was a stay, EC had no restriction in hearing the AAP matter."
"Politics is the art of possible and they work on those lines. Whereas, EC has to get 360 degree information on every issue and decide every issue objectively. So we are doing whatever is befitting to us, they are doing whatever is befitting to them."
He said the poll panel is working for public perception of absolute neutrality, impartiality and commitment to the cause of free and fair elections.
Asked whether it was unfair on part of Kejriwal to question his neutrality he said, he would pass a "value judgement."
"It is a learning process, you keep on learning nuances of different environment" Every event makes you wiser," he said.
He said the poll watchdog is concerned about Section 126 of the Representation of the People Act which bars campaigning and display of election material 48 hours prior to poll as there have been report that many people unknowingly did it through social media.
Such people, he said, have become liable for prosecution.
The commission took note of it and dug out records of 2014 Lok Sabha and 2015 Bihar polls. When it was revealed that a large number of people are being criminalised, the commission set up a committee to recommend changes to the law ministry.