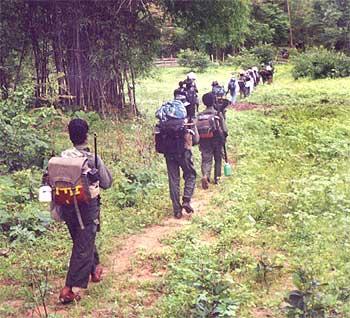 Noting that the Naxals are on 'backfoot', newly-appointed Inspector General of Police (in-charge) Bastar Range Sundarraj P, who replaced controversial officer S R P Kalluri, on Friday asserted that the 'aggressive' operation against the extremists will continue.
Indicating that there will be no let up on the Naxal front even after the transfer of his predecessor, Sundarraj said, "Security forces are in a dominating position. The aggressiveness (in the operation) will be continued."
"The Naxals are on the backfoot... the way operation (against rebels) was underway, it will continue (with the same intensity)," he said.
The 'war' against the menace will be fought with 'multiple approach', including by continuing development in the region, he said.
The 2003-batch Indian Police Service officer has been brought in the Naxal-hit region following the exit of IG Kalluri, who was at the centre of controversies for his alleged high-handed style with activists claiming human rights violations in Bastar.
After Kalluri was attached with police headquarters in Raipur without being given any charge on February 7, Sundarraj, who was last week appointed DIG Dantewada range with charge of entire Bastar region, was also made in-charge IG of Bastar.
Sundarraj, who previously served as Superintendent of Police in Naxal-hit Bastar, Narayanpur, Kondagaon and Rajnandgaon districts, was posted with State Intelligence Branch (SIB) at Raipur prior to his new deputation.
Usually preferring to keep away from media glare, he is known to be a good strategist during his posting in the districts of Bastar division.
He was among five SPs who devised strategies against Naxals and achieved success during operation 'Green Hunt' (in 2009-10). They were said to be guided by the then inspector general of police T J Long Kumer, an IPS officer of 1991 batch, of Bastar Range.
Asked whether an operation similar to 'Green Hunt' will be re-launched to tackle Maoists, Sundarraj said the ongoing operations in the field are yielding good results.
The operations are continuous in several parts of the Bastar, though they have not been named technically.
"This war cannot be fought on a single front. Along with operational front, we have to work on several other fronts, like development. Collectors are also active and doing good work in the region. We have to take public along with us, villagers along with us. We have to move ahead with a multiple approach (to tackle Maoist menace)," he said.
On allegations of human rights violations against Bastar police, Sundarraj said such charges were found to be false after investigation, and that they were levelled to demoralise the forces.
"During operations, the forces act sensitively and never misbehave with villagers. Several times allegations (of human rights violations) were levelled but not proved. These allegations are mere propaganda to demoralise the forces," he added.
Image for representation only.