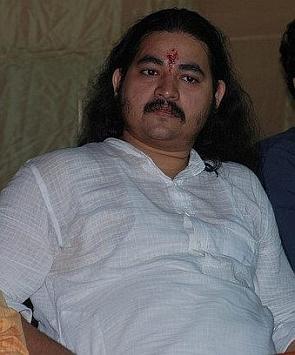 The extremist outfit has a tainted past and has been entangled in different legal cases for extortion, rioting and instigating violence. Devidas Deshpande reports from Pune.
The Hindu Rashtra Sena, which has been implicated in the murder of a Pune-based techie, is a shadow organisation about which not much information can be found. It has a Facebook page that doesn't say much, and its official blog has only one post, that too from 2000.
Twenty-year-old IT graduate Mohsin Sadiq Shaikh was beaten to death on Monday night, allegedly by members of this extremist Hindu organisation. The trigger for Mohsin's killing was the uploading of derogatory pictures of warrior king Shivaji and late Shiv Sena supremo Bal Thackeray on Facebook, something the youth was unconnected to.

Fourteen members of the outfit, including its chief Dhananjay Desai, have been arrested for the murder. The Hindu Rashtra Sena's Facebook page spews venom against the Muslim community and openly calls for violence.
Ram Jadhav, police inspector, crime branch and Rajendr Bhamare, assistant commissioner of police, had taken Desai into custody for distributing incendiary pamphlets. After he was released, he was again held by the Hadapsar police in connection with Mohsin's death.
The extremist outfit has a tainted past and has been entangled in different legal cases for extortion, rioting and instigating violence.
The Hindu Rashtra Sena first grabbed headlines when Desai led an attack on Star News office in 2007 for telecasting a report about a Hindu girl and Muslim boy who had eloped from Surat to Mumbai to get married. Back then, he had 13 criminal cases pending against him which has gone up to around 23 today. In the early 2000s, he fired five shots on former legislator Nihal Ahmed. Maharashtra Home Minister R R Patil had then said that the government did not have much information on him.
There is little information available on the activities of the Hindu Rashtra Sena. It's more like a private gang, and police officials allege the outfit is run with the money extorted from builders and businessmen.
The Hindu Rashtra Sena opposed a cultural programme in which actor Sanjay Dutt, serving his term in Yerwada Jail for illegal possession of arms in connection with the 1993 blasts, was to participate, and the prisons department was forced to cancel the show. The outfit also held demonstrations in support of Sadhvi Pragya and Colonel Srikant Purohit, accused in the Malegaon blasts.
Desai, who is in his mid-30s, was to be barred from entering Mumbai because of his criminal record about a decade ago. A notice was never served but Desai moved to Paud (Mulahi taluka) on the outskirts of Pune and set up the Hindu Rashtra Sena.
Desai today moves around in a convoy like that of a politician, complete with private security guards. He is always armed with a pistol, it is said.
He is a regular at programmes organised by the Hindu Janjagruti Samiti. In May 2013, while speaking in Kolhapur, he said, "If fanatical Muslims are to be curbed, it cannot be done by following the non-violence policy advocated by Nehru and Gandhi. Veer Savarkar's policy will have to be adopted."
While he moved to Pune, his aides Vishal Desai and Pradeep Apte recruited young blood into the organisation in Mumbai. The outfit today has over one lakh members across the country and is known for its affiliation to like-minded organisations like the Abhinav Bharat led by Himani Savarkar, Sanatan Sanstha and the Sri Ram Sene led by Pramod Muthalik.

Image: Hindu Rashtra Sena chief Dhananjay Desai