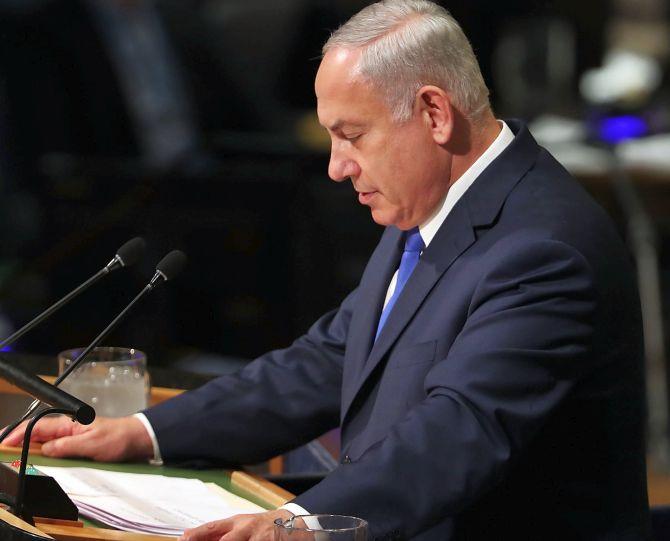 In a setback to Israeli Prime Minister Benjamin Netanyahu, the police on Wednesday recommended his indictment in two case of alleged corruption and breach of trust even as the beleaguered leader remained defiant and refused to step down.
After a 14-month-long investigation, police announced that it found enough evidence to recommend the state's prosecution to indict 68-year-old Netanyahu.
Netanyahu, the two-time premier, faces prosecution in two corruption cases: a gifts-for-favours affair known as Case 1000, and a second scandal, called Case 2000, in which he is suspected of back-room dealings with Arnon Mozes, publisher of the popular newspaper Yediot Aharonot, to ensure more favourable coverage, the Jerusalem Post reported.
Netanyahu was chosen the prime minister of Israel in 2009. Previously he held the position from 1996 to 1999.
The police have accused Netanyahu of accepting nearly $300,000 in gifts over 10 years.
Netanyahu, however, said his government was 'stable' and criticised the police investigation, which prompted calls for his resignation.
"I can reassure you that the coalition is stable. Neither me nor anyone else has plans for elections. We're going to continue to work together for the good of Israeli citizens until the end of the term," he said.
"I will continue to lead Israel responsibly and faithfully for as long as you, the citizens of Israel, choose me to lead you," he said soon after the allegations came to light.
"I am certain that at the next elections, which will be held on schedule, I will earn your trust again, with God's help," he said.
He said the police report 'misleads' and is 'contrary to the truth and logic'.
Netanyahu earlier addressed the nation shortly before the police released their findings and made it clear that he would not step down.
"I feel a deep obligation to continue to lead Israel in a way that will ensure our future," he said.
"Over the years, I have been the subject of at least 15 enquiries and investigations. All of those attempts resulted in nothing, and this time again they will come to nothing," Netanyahu said in the televised address on Tuesday night.
The prime minister, in the past, had also rejected both allegations claiming that 'it is not illegal to accept gifts from friends' and that 'Nothing will happen because nothing happened'.
The case has focused primarily on Netanyahu's relationship with Israeli billionaire and Hollywood producer Arnon Milchan.
In exchange for the gifts, police say, Netanyahu tried to advance a tax break that would have benefited Milchan, though he was blocked by the finance ministry.
"According to suspicions, the Prime Minister worked to advance the extension of the tax waiver for returning citizens over 10 years, a benefit that has a considerable economic value for Mr Milchan," the police statement said.
Police will now pass the evidence to the attorney general, who will make a decision on whether or not to indict the prime minister.
The decision is not expected imminently. By Israeli law, he is only required to step down if he is convicted and that conviction is upheld through the appeals process to the high court, a process that could take years.
However, he could face public and political pressure to step down much earlier.
His coalition partners, so far, have backed him, saying they will not take down the government over a police conclusion.
These police recommendations come in wake of an ongoing campaign by Netanyahu to discharge the credibility of his investigators.
Netanyahu's attacks were made in response to remarks made by Police Commissioner Inspector-Generl Roni Alsheich, who hinted that Netanyahu had sent private investigators to collect information against police officers who are involved in his case.
On Thursday, Netanyahu said on Facebook: 'It's shocking to see that he [Alsheich] is repeating the outlandish and false claim that [I] supposedly used private investigators against police officers.'
IMAGE: Israeli Prime Minister Benjamin Netanyahu said the allegations were baseless and that he would continue as prime minister. Photograph: Spencer Platt/Getty Images
© Copyright 2023 PTI. All rights reserved. Republication or redistribution of PTI content, including by framing or similar means, is expressly prohibited without the prior written consent.