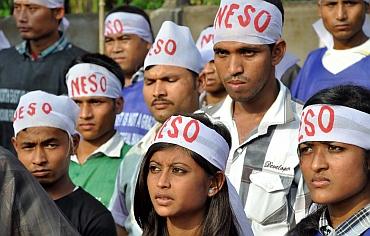 The North East Students' Organisation, a banner organisation of all the major students' organsations from the 'seven sister' states on Thursday held a protest demonstration in the heart of the city here demanding the Government of India's immediate action on their long-standing demands.
Leaders of all the NESO constituents converged here to harp on their demands that include immediate action by the government to prevent harassment of students and youth from the Northeast in other parts of the country.
The NESO leaders commented that if such harassment of students from the north east and youth continued in the rest of the country including places such as Delhi, Bangalore, Haryana, it would definitely contribute to aggravation of the sense of alienation in the region.
The NESO leaders made a fresh appeal to the Centre to take expeditious steps to solve the problem of illegal migration from Bangladesh to Assam and update the National Register of Citizens of 1951 in Assam on the basis of 1971 voters' list.
One of the prominent demands of the NESO included call for halt in construction of mega dams on rivers in the Northeast which falls in Seismic Zone V, before carrying out proper and neutral downstream impact study by noted experts in the field.
The NESO leaders sought intervention from the Centre in facilitating amicable solution to long-standing boundary disputes among Northeastern States as the chronic boundary row has been affecting to people-to-people relation in the region.
Top leaders of All Assam Students Union, All Arunachal Pradesh Students Union, All Manipur Students Union, Khasi Students Union, Naga Students Federation, All Tripura Students Federation and Mizo Zirlai Pawl participated in the protest demonstration that was led by NESO chairman Dr Samujjal Bhattacharrya.
Image: Activists of the North East Students Organisation join hands during an agitation programme in Guwahati on Thursday, against illegal infiltration and demanding to stop discrimination, harassment and torture on North East Students in other parts of India