The Indian media is facing flak for its coverage of the earthquake disaster in Nepal with complaints in the social media that it was treating the tragedy as a "public relations exercise" on behalf of the Indian government.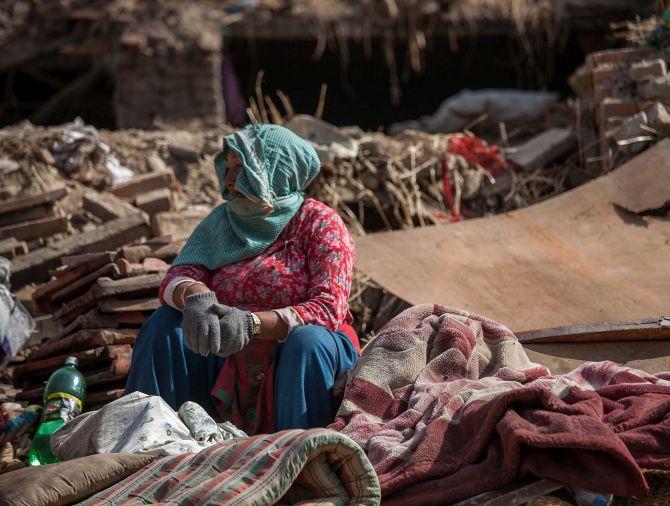 A woman sits on top of debris from collapsed buildings in Harisiddhi, Nepal. Photograph: Omar Havana/Getty Images
As Nepal picks up pieces in the aftermath of last month's devastating earthquake that killed over 7,000 people and injured more than 14,000, some have picked holes in the "relentless and aggressive" coverage by the Indian media.
By Sunday evening #GoHomeIndianMedia, which was created on Twitter for slamming the Indian media, was the top trending hashtag in Nepal with more than 60,000 tweets on the topic.
As grief-stricken people in Nepal took to social media in droves to complain what they called as Indian media's "insensitive" reportage of the worst earthquake to hit the Himalayan nation in 80 years, the criticism ironically came on the occasion of the World Press Freedom day on Sunday.
At the same time, there have been critical responses to the negative reactions in the social media with comments like the Indian media coverage being "largely responsible" for how the rest of the world saw the Nepal tragedy and even driving global response.
While grateful for the aid and help in rescue efforts, some sections of the media were panned on the social media for pitching the tragedy as a 'public relations exercise' for the Indian government.
"Media humiliated poor Nepal in order to take credit & cheap publicity in the hour of crisis. Sad," said one tweet.
In a blog published on CNN, Sunita Shakya of Nepali origin writes, "Your media and media personnel are acting like they are shooting some kind of family serials."
She also goes on to describe a couple of instances where she says the reporter did not do enough to help the injured person in need.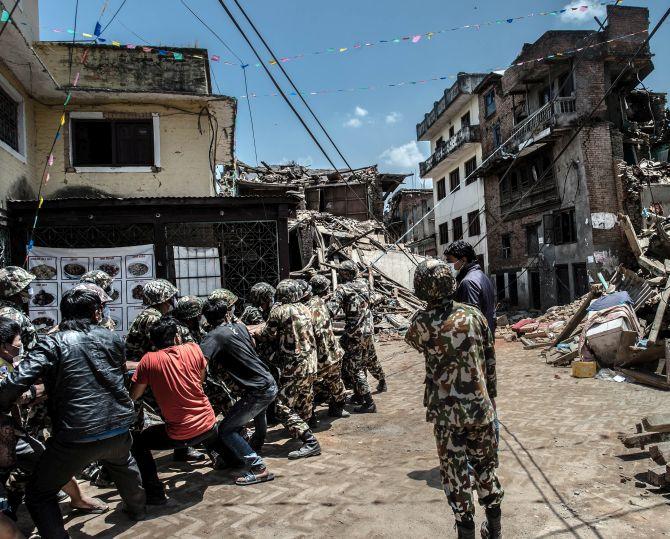 Nepali Ranger soldiers and volunteers pull down a damaged building with a rope during removal operations in Sankhu, Nepal. Photograph: David Ramos/Getty Images
"Thanks to tons of reporters who came to Nepal from those rescue planes of India, you took a seat where a victim could be transported to hospitals/ health camps. Thanks to you all reporters, you took a seat where a bag of food and supplies could be placed to send to those hardly hit places," she added.
Kunda Dixit, a veteran journalist, was quoted has having said that some Nepalese, not all, feel India media is a bit patronising in their attitude and that is perhaps why such sentiments are being expressed. That is how a section of the Nepali media also feels, according to Dixit.
The Indian media was accused by the Twitterati of being insensitive to survivors, asking them irrelevant questions such as "How are you feeling?" and not rendering help to those needing immediate medical aid.
"If your media person can reach to the places where the relief supplies have not reached, at this time of crisis can't they take a first-aid kit or some food supplies with them as well?" asked Shakya.
Some tweets said that Nepal is a sovereign country and not a "satellite state".
"Dear@narendramodi our Dharahara may have fallen not our sovereignty! Sinerely Nepalese #GoHomeIndianMedia," said one tweet while another sarcastically said, "Mr @narendramodi please call your media back. They r just hurting us more."
"The height of event management!!! Shame on media's sycophancy," read another tweet.
"#GoHomeIndianMedia is about Indian Media. It has nothing to do with the Indian government. The Indian government was the first to reach Nepal," was another tweet.
Ajay Bhadra Khanal, a veteran journalist, was quoted as having said that the Indian media's "aggressive presence" and the way they are highlighting only their government's role in rescue and relief efforts has affected the perception among Nepalese of the Indian government.