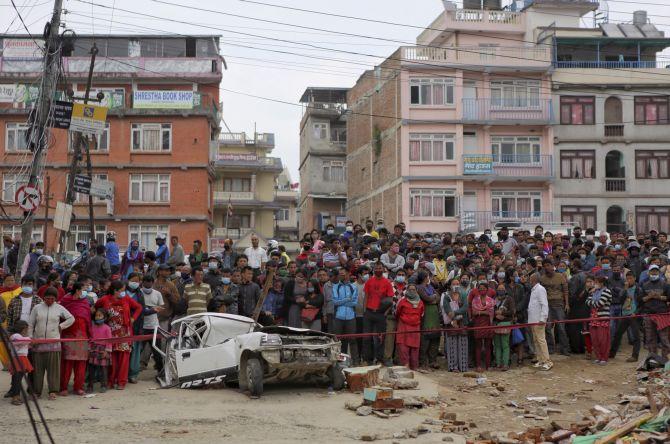 People wait for relief materials next to a damaged car after Saturday's earthquake in Kathmandu, Nepal. Photograph: Reuters
Far away from their homeland and family members in the hour of tragedy, hundreds of Nepalese students studying in New Delhi have turned into foot soldiers to raise funds for sending relief and succour to quake-hit Nepal.
The 7.9-magnitude temblor on Saturday and succeeding aftershocks in the Himalayan nation have claimed over 6,000 lives there and flattened the iconic architectural landscape of the country.
Prajwal Basnet, 20, who is pursuing a course in Chartered Accountancy, joins a group of five-six fellow students to raise funds for the cause after attending classes.
"We are about 500 students who have volunteered to work towards raising funds. We study at the same place but we are from different parts of Nepal, and we have decided to put in our energies together to send relief material, medicines and other essential supplies there," Basnet told PTI.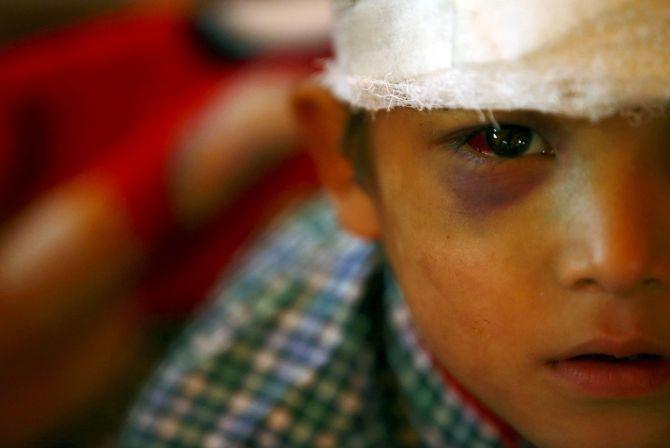 Image: Sanjit Karki, 6, an earthquake survivor, sits inside a temporary makeshift while under going treatment at the Army Hospital in Kathmandu, Nepal. Photograph: Navesh Chitrakar/Reuters
He said first batch of relief material has already been sent, and once the necessary items have been arranged for, "we will send the second one too."
Basnet, a resident of Itahari, about 350 km from capital city Kathmandu, is in the final year of its course. These days he can be seen carrying a donation box in public places such as parks, malls and Delhi Metro premises, with 'Save Nepal' written in boldface on its front.
His friend Sagar Upreti, hailing from Chitwan district, carries a poster around to attract people's attention and appeals to them to join in the cause.
Upreti, 21, says, "We are here physically but our souls are with our family and other people affected by this unimaginable tragedy."
His father survived a house collapse, and is now sleeping in the open.
"We had a three-storeyed house and cracks developed in the walls of the ground floor and the top two storeys just caved in. My father was lucky as he ran out in time," he said.
Mustang native Amina Gurung says "people have been responding to our plea and coming out to help us.
"We raised Rs 66,000 on Tuesday in just two hours. We travelled to Huda City Centre metro station and other busy public places as we have to raise the money in quick time."
In Nepal, grief has been taken over by anger as protests on Wednesday greeting Nepalese Prime Minister Sushil Koirala in relief camps, four days after the Nepal's worst earthquake in over 80 years.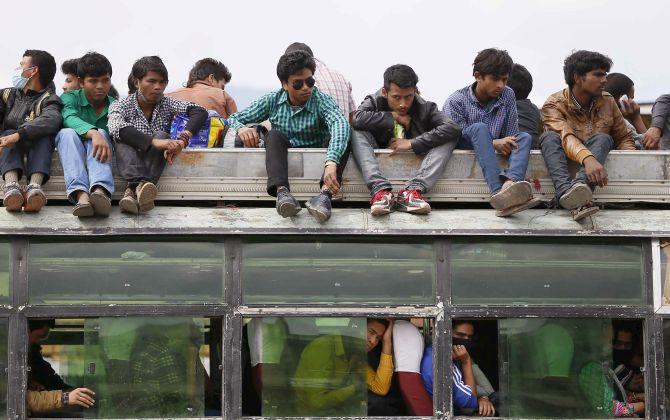 People ride a bus as they leave Kathmandu after Saturday's earthquake in Nepal. Photograph: Reuters
Another volunteer Deepa Byajankar, 20, from Patan city, which has been practically robbed of its architectural grandeur, says," "My parents are safe but they are living in a tent in a ground nearby our house. People are still afraid to go back."
"We have been living in Delhi for the last three to four years and right now, we are missing our family and homeland so badly. Last time, we went home was seven months ago for our holidays. And, the images we are getting from Nepal are horrifying," she said.
Patan Darbar Square in Kathmandu Valley is a World Heritage Site, but, the temblor has reduced the cultural icon to rubble.
"It breaks my heart to know that all that beauty we grew up with as a child is no more to be seen. But, more than rebuilding temples and sites, it is the human lives that need to be rebuilt and rehabilitated. And, we want to be part of it, even if we are far away from our homes," she added.