Injured school students admitted in Malda Medical College hospital after collapse of a school building upstairs during earthquake in Malda district of West Bengal. Photograph: PTI Photo
Over 26 people have lost their lives country in the aftermath of the 7.9 magnitude earthquake in Nepal.
Here's a round-up of casualty reports from across the country.
Bihar
Bihar, still reeling under the devastation wrought by a killer nor'wester, bore the brunt of the massive temblor that shook the eastern and northeastern parts of the country on Saturday claiming at least 38 lives and leaving 133 injured.
Special Secretary, State Disaster Management Department, Anirudh Kumar told PTI that six persons died in East Champaran district, while four others lost their lives in Sitamarhi, both sharing borders with Nepal, the epicentre of the quake.
Other deaths have been reported from Darbhanga (2), while one death each has been reported from Supual, Araria, West Champaran, Sheohar and Saran, he said.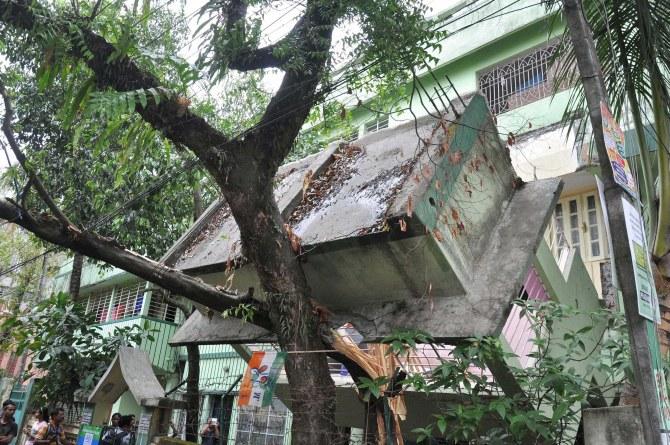 A portion of a residential building collapses following a tremor in Siliguri. Photograph: PTI Photo
The Disaster Management Special Secretary said 48 persons have been injured in quake-related incidents in various parts of the state.
There were three deaths in Darbhanga, two each in Madhubani, Saran and Araria and one each in Sheohar, Supual and West Champara
Bihar Chief Minister Nitish Kumar said 133 people have been injured in quake-related incidents in different parts of the state. Twenty-nine were injured in Darbhanga, followed by 16 in West Champaran and 10 in Madhubani. Injuries were also reported from Sitamarhi, East Champaran, Sheohar, Supual, Nalanda, Samastipur, Gopalganj, Vaishali and Muzaffarpur, he said.
Director, State Meteorological office, A K Sen said there was a possibility of secondary jerks of the earthquake for the next 48 hours particularly in areas like Darbhanga, Araria, Kisanganj bordering Nepal and an alert has been sounded to the state government in this regard.
In south Bihar, capital Patna was also badly hit and the chief justice's bungalow 'Chajjubagh House', the Prince of Wales Medical College (now Patna Medical College and Hospital), Patna Secretariat, state assembly building, Patna College, among others were extensively damaged.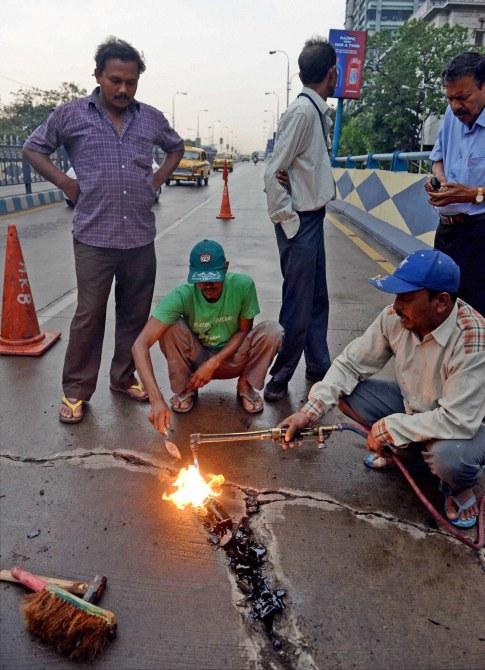 Workers repair a crack on a flyover after the earthquake in Kolkata. Photographer: PTI
West Bengal
In West Bengal, where a state-wide civic election is on, two persons were killed and 35 were injured in quake related incidents.
Chief Minister Mamata Banerjee said two persons had died in Darjeeling and one in Jalpaiguri district.
At least 69 others, including 43 school children, were injured while several buildings developed cracks in an earthquake that rocked West Bengal along with the eastern region today.
A man, identified as Pannya Singha Roy, died when a wall collapsed on him when he was working in his garden at Noapara in Ambari area of Jalpaiguri district, District Magistrate Pritha Sarkar said.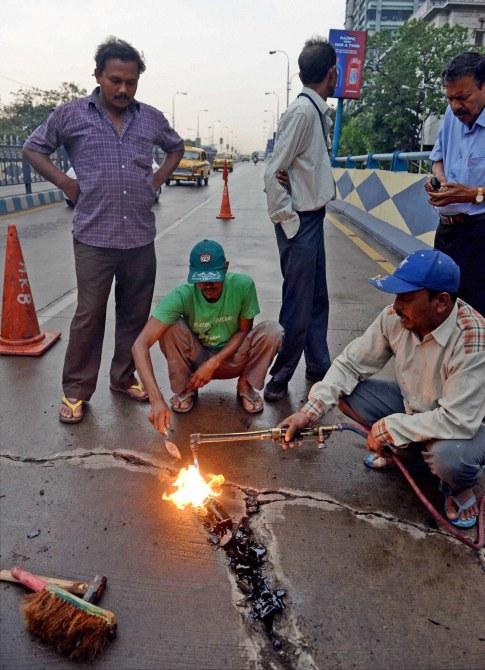 People come out of a hospital following a tremor in Siliguri. Photograph: PTI Photo
At least 66 people were injured in three places of Malda district as portions of the roof collapsed in two school buildings and a bank, police said.
Thirty students were injured at BSB High School at Bhado when the roof collapsed following the quake.
The students were admitted to various primary health centres and Malda Medical College Hospital, police said.
Roof collapse at Naimouja High School at Sujapur left 10 students, including three girls, injured.
Headmaster of the school, who fell sick after hearing the news, had to be hospitalised along with the students, police said.
Yet another 25 people were injured when portions of a roof collapsed at a nationalised bank branch at Bangitola in Malda district.
Police said the injured included both customers and bank employees.
Cracks developed in several buildings of Siliguri in Darjeeling district, Telipara in Jalpaiguri district and various places of Malda district due to the quake, official sources said.
The water of the river Korola, passing through Jalpaiguri town, rose in waves to a considerable height during the quake.
The area suffered an aftershock around noon, Gopinath Raha, in-charge of Sikkim Meteorological Department said.
The temblor also shook Kolkata where hundreds of people ran out of their homes and offices and assembled on the streets.
Sadhus standing on the debris of a temple that collapsed following a tremor in Ayodhya. Photograph: PTI
Uttar Pradesh
At least 11 persons, including 4 children, are reported to have lost their lives as their houses collapsed in different parts of Uttar Pradesh. Around 69 people were injured.
"A woman and a child came under the debris of their 'kutcha' home in Barabanki, while a man died as a wall of his house caved in at Gorakhpur. A 15-year-old girl was crushed under the wall of her house in Shravasti while while her 12-year-old brother suffered injuries. A report from Kanpur said two children returning from school were crushed under a wall of a collapsed house," UP principal home secretary Debashis Panda said.
Even as the epicenter of the massive earthquake (7.9 magnitude)was close to Kathmandu in Nepal,long spellof tremors were felt in large parts of Up, particularly areas close to the Nepal border. UP shares a 600- km long border with the Himalayan kingdom .
Chief Minister Akhilesh Yadav had issued directives to all district magistrates to keep their respective teams on high alert and to fan out in areas from wher slightest damage is reported.
Some cracks were also visible on an old temple building in Ayodhya.
Minister of State for Home Affairs Kiren Rijiju said a total of 460 NDRF personnel have been dispatched to Nepal along with all rescue gears to help the local administration in rescue operations.