The death toll following the devastating earthquake that rattled Nepal a week ago has crossed 7,256.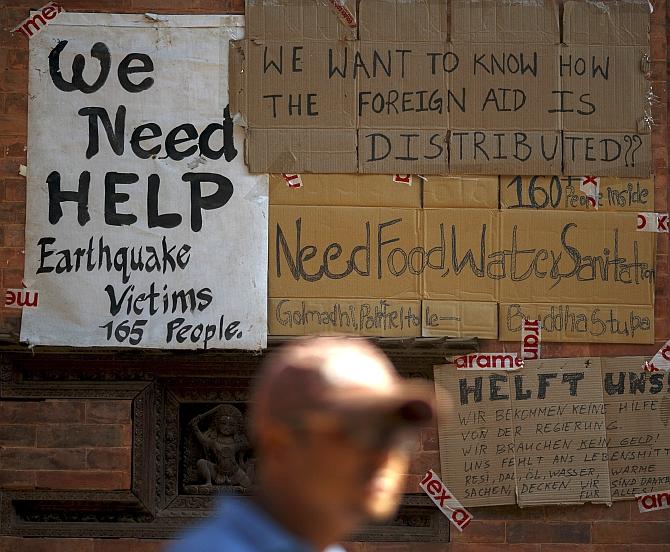 Image: A local resident walks past notices for help on the walls of a temple after last week's earthquake in Bhaktapur, Nepal. Photograph: Athit Perawongmetha/Reuters
A tremor of 5.2 magnitude hit the Himalayan nation on Sunday following which there was panic among the people, who scrambled for open spaces.
The National Disaster Response Force is continuing the rescue and relief operations. The relief materials are being sent via the rail route also from Old Delhi Railway Station to Raxaul. Senior NDMA officials have been supervising the supply of relief materials being sent through the Indian Railways to Nepal.
Over 170 tonnes of relief materials, including tents, tarpaulins, blankets and dry ration, have been dispatched to the quake-hit nation so far.
Meanwhile, a new survey has revealed that more than three quarters of the buildings in Nepal's capital Kathmandu are uninhabitable or unsafe after the earthquake measuring 7.9 magnitude hit the country.
According to the Guardian, an assessments of 2,500 buildings carried out by more than 1,000 local engineers during the last four days have revealed that a fifth are no longer habitable and three-quarters need repairs before they can be considered safe.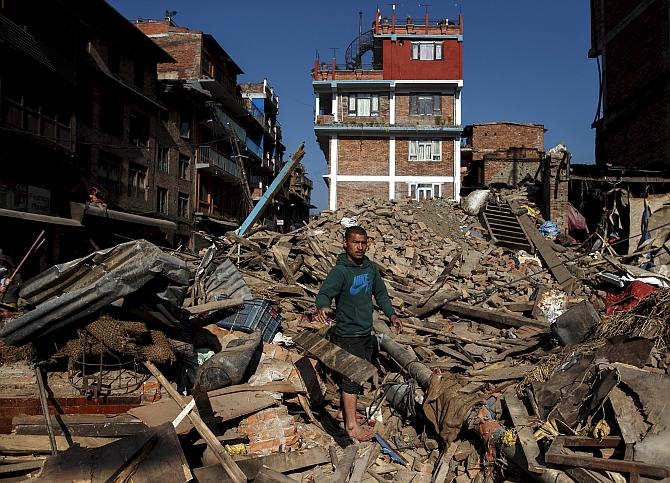 Image: A local resident clears the rubble from his home which was destroyed after last week's earthquake in Bhaktapur, Nepal. Photograph: Athit Perawongmetha/Reuters
Survey coordinator Drubha Thapa, president of the Nepali Engineers Association said that the sample was random and representative of the whole city but a throrough assessment was still pending.
Local officials have so far counted 153,000 buildings that are in ruins across the country, with another 170,000 damaged.
Runway damage forced Nepalese authorities to close the main airport on Sunday to large aircraft delivering aid to millions of people following the massive earthquake, but United Nations officials said the overall logistics situation was improving.
The main runway was temporarily closed to big planes because of damage. It was built to handle only medium-size jetliners, but not the large military and cargo planes that have been flying aid supplies, food, medicines, and rescue and humanitarian workers, said Birendra Shrestha, the manager of Tribhuwan International Airport, located on the outskirts of Kathmandu.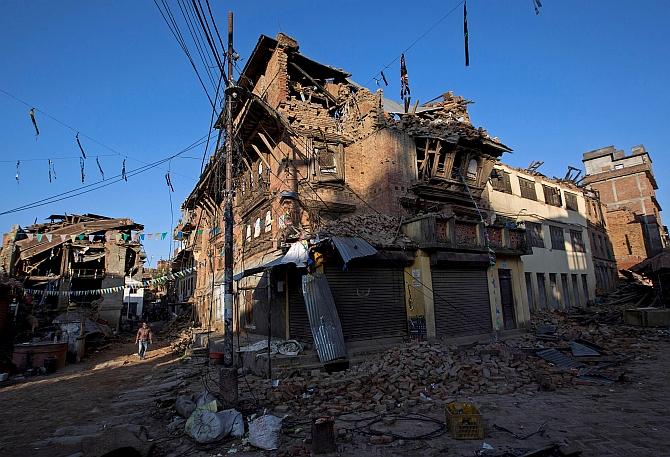 Image: An earthquake victim walks along a street near collapsed houses in Sankhu, on the outskirts of Kathmandu. Photograph: Danish Siddiqui/Reuters
Airport congestion was only the latest complication in global efforts to aid people in the wake of the April 25 quake.
People in Nepal "both in remote villages and the capital, Kathmandu" have complained about not seeing any rescue workers or international aid and about a lack of temporary shelters, with many sleeping out in the open because of fears of aftershocks bringing down their damaged homes.
The UN urged Nepal to relax customs controls which it says are holding up deliveries of aid coming from countries around the world from reaching the survivors.
Nepal lifted import taxes on tarpaulins and tents on Friday but home ministry spokesman Laxmi Prasad Dhakal said all goods arriving from abroad had to be inspected.
Aid agencies have warned that remote mountainous areas in the country have suffered "almost total devastation".