After all the drama that preceded the book launch of former Pakistani foreign minister Khurshid Mahmud Kasuri's book launch in Mumbai, the discussion that ensued on the dais on Monday turned out to be a fiasco. Here's are five things that went unnoticed at the book launch, says Prasanna D Zore/Rediff.com.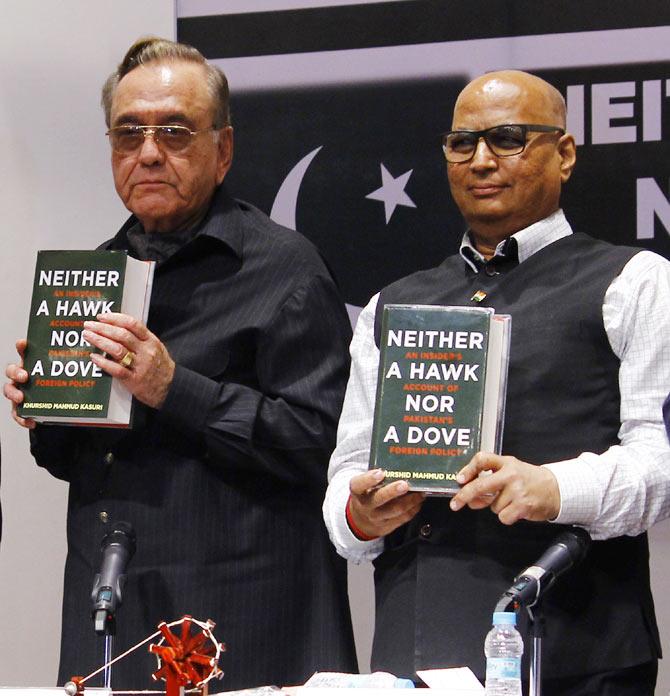 Photographs: Hitesh Harisinghani/Rediff.com
Had the Shiv Sena not created a ruckus, former Pakistani foreign minister Khurshid Mahmud Kasuri's book launch at Mumbai's Nehru Centre on Monday would have been an absolute dud.
The reason: in the absence of Shiv Sena style protest (everybody loves a good 'blackened face'), there were only bored audience, a sleepy panel using abstruse diplomatese (the reason why the audience almost dozed off) to discuss Kasuri's Neither A Hawk Nor A Doe: An Insider Account of Pakistan's Foreign Policy and our guest from Pakistan himself who was adept at, given his experience as Pakistan's former foreign minister, parroting the 'Kashmir first' line and hard-selling himself to the Pakistani establishment and his book at the drop of an ink bottle.
So, here's what went unnoticed and unreported about the event.
1. Plainclothes cops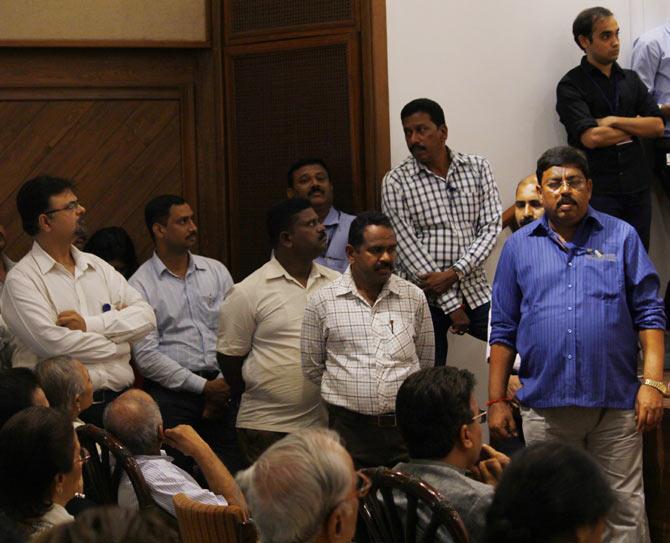 While it surprised us that there were no men in khaki to prevent a repeat of what happened with Sudheendra Kulkarni earlier in the day, given that the Shiv Sena -- after a series of flip-flops over backing off from their 'mild form of democratic protest' or continuing with them -- it made us somewhat confident when we saw almost a dozen cops in plainclothes ring-fencing the dais's entry point.
Significantly, this posse kept a hawk eye on the attendees. Those wearing saffron clothes or sporting red vermillion were checked and cross-checked by these cops as they ushered them outside the hall on a number of occasions.
Those who faced the brunt of these cops included a saffron T-shirt clad reporter from Mid-Day, a Mumbai daily, an unknown person in the audience who wore a saffron kurta and sported a tilak on his forehead, as well as another 'journalist' who sported a white beard.
Thankfully, after thorough frisking and establishing their identities, they were allowed to take their respective seats.
2. Bored audience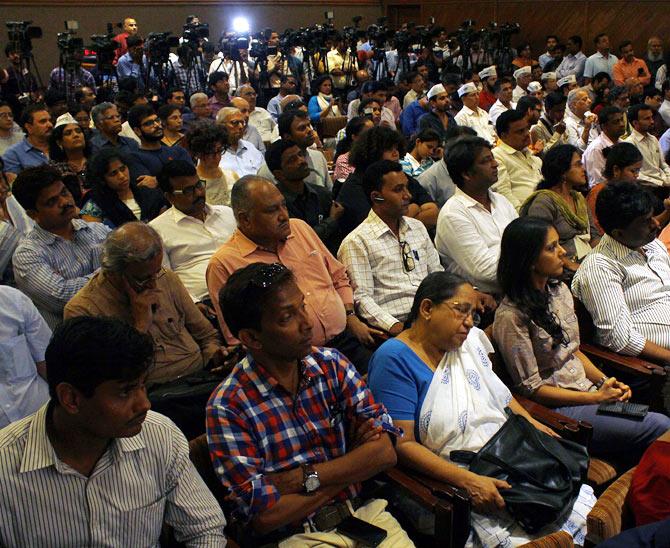 How these three gentlemen must have wished they were not allowed to re-enter the hall -- for the entire discussion between the esteemed panelists like former Supreme Court advocate, historian and author A G Noorani, actor Naseeruddin Shah, former editor of the Times of India Dileep Padgaonkar and the guest of honour himself turned out to be a tame affair.
The audience that was ecstatic before the discussion began felt a rush of adrenaline down their spine as speaker after speaker condemned Shiv Sena for its cowardly attack on Kulkarni. That was perhaps the sole reason the crowd had assembled: to look the Shiv Sena in the eye. They believed or perhaps wanted some sort of 'action' even during the event.
When the discussion began on a positive note and as the speakers on the dais began deliberating on the India-Pakistan relationship and Jammu & Kashmir, the crowd lost its interest.
Some slept sitting right there in front; some began discussing other mundane things with their friends; some other began tweeting.
With the abstruse, over-the-top discussion among Noorani, Padgaonkar and Kasuri, the audience interest began to peter out. Of course, Naseeruddin Shah's take on the relationship between the two countries drew some applause, as well as the sorely-missing laughter, only because he gave a Bollywoodian-spin to it instead of rambling along the politics being played.
When asked how Bollywood can help improve relations between the two warring neighbours, the thespian, rousing himself perhaps from fatigue and slumber, quipped, "Just by making better films."
3. Sleepy panel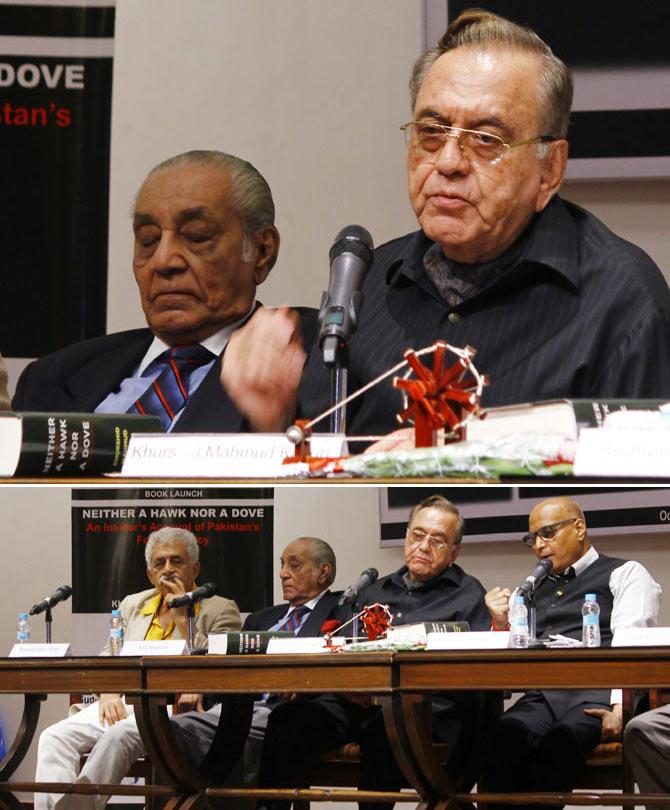 Believe it or not but A G Noorani and Naseeruddin Shah allowed themselves to catch up their proverbial cat nap whenever they were not espousing the cause of peace between India and Pakistan or waxing on a probable solution to the Kashmir tangle.
While one can only conjecture that these two must have been tired or feeling the fatigue of the heavy-duty discussions on the dais, or drew inspiration from the audience they were facing, one could not help but capture those candid moments.
4. Is Modi a man of destiny?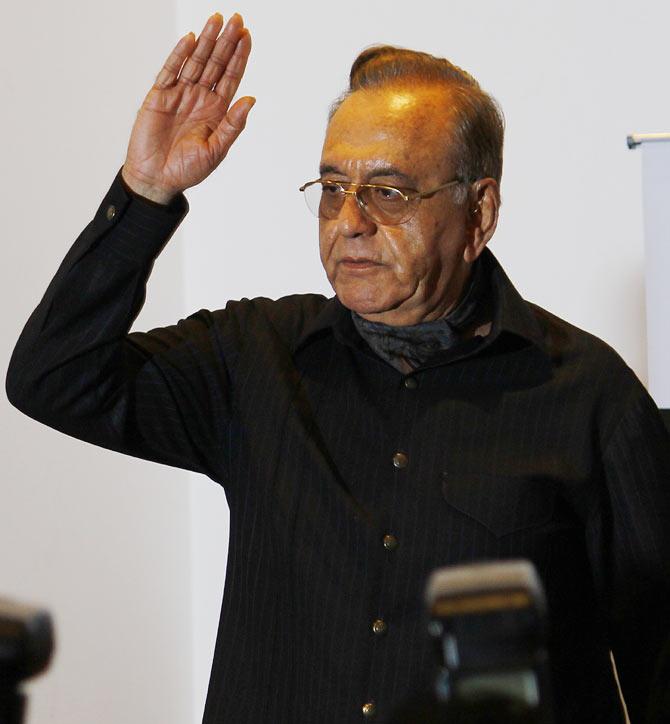 Yes, that is what the former Pakistani foreign minister said about Prime Minister Narendra Modi. In fact, that was the only headline that Kasuri made but which seemed to have been ignored among the ennui that ensued inside the venue.
This is what Kasuri said about Modi and the context in which he said so:
'Then this becomes a reference point even for politicians when they wish to change the course of history. Most Indian leaders who met me in private, something along the lines... now let's not waste our time; let's make history. Even Prime Minister Narendra Modi, about whom, in Pakistan there are many apprehensions... I have said in this book that a man who I saw weak in California or wherever talking about his humble origins and how his mother had to support him... when a person like that has risen from the bottom and has become the prime minister of the biggest democracy in the world... can he be without a sense of destiny?
'May be I am clutching at a straw... (long pause) but I don't think I am. Because I think he would realise that Mr Vajpayee... and here's the final irony: President Musharraf, a refugee from Delhi must have heard horrible stories of the way his family must have been expelled from Delhi, he joins the army, fights every war against India, is the author of Kargil, becomes a statesman. Prime Minister Vajpayee, starting from whatever, going to Hindu Mahasabha (sic), you again become a statesman too. I don't find two people, more dramatically different in their origins reaching the same conclusion that there is no way out.
'My hope is that Prime Minister Narendra Modi has made a promise to the people of India about Vikas. So, I base my hope on the fact that Prime Minister Modi will realise that Mr Vajpayee's course was the right course.
5. Kasuri parroting 'Kashmir first'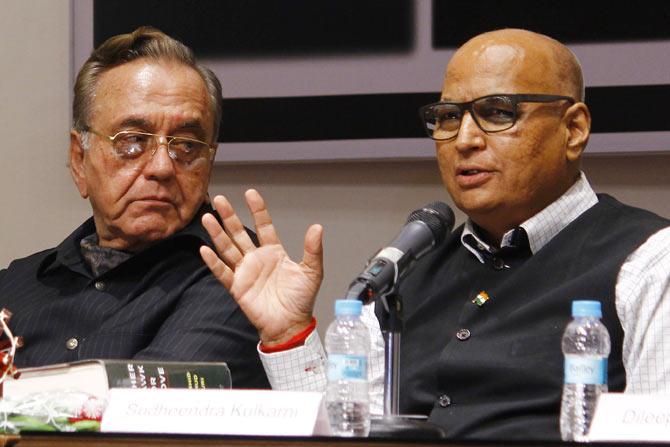 Isme Kasuri ka kya kasoor hai?' you might wonder.
Being a Pakistani, being neither here nor there, being neither a dove nor a hawk, it almost becomes convenient for any Pakistani dignitary to toe the 'Kashmir first' line when confronted with uncomfortable questions like the 26/11 Mumbai terror attacks and Pakistan's involvement or the whereabouts of the notorious fugitive and don Dawood Ibrahim.
Kulkarni did make a valiant attempt to get the over-cautious, over-diplomatic Kasuri forget Kashmir for once and get an answer to the two questions that most trouble the Indian establishment.
Speaking about the cowardly attack by 10 Pakistani terrorists on November 26, 2008, Kulkarni told Kasuri: 'This concern and outrage is one of the sources of strong anti-Pakistan sentiment in India. how do you respond to thee concerns and what's the way forward?'
Now, read the classic 'Kashmir first' Kasuri line:
'I think this is a very valid question and one needs to answer that.
'First of all, let me go to the very beginning and then we begin to see the nuances. India was one of the leaders of the Non-Aligned Movement and at that time national liberation was a legitimate instrument (of State policy) and India subscribed to it. And then I know the world began to change and then there was 9/11 and we had to live with contemporary realities.
'Now there is jihad in Kashmir or terrorism or whatever you like to call it is attributed to religious minded people.'
And then Kasuri Saab rambled and rambled about Marxists, left of centre politics and how 'national liberation' became 'jihad' or 'terrorism' for the next 20 minutes without uttering a single word about 26/11.
Kulkarni's next poser: 'Is Dawood Ibrahim in Pakistan? And, if yes, will Pakistan extradite him to India?'
Kasuri Saab at his best: 'I was never the interior minister (the equivalent of India's home minister) of Pakistan. I was the foreign minister of Pakistan. All I am saying is that all that is related to Kashmir related violence.'
And then Kasuri took his audience on a round of how Pakistan is going hammer and tongs at the Talibani terrorists across the tribal belts of Federally Administered Territorial Areas, Waziristan, et al.
And thus we rest our case...