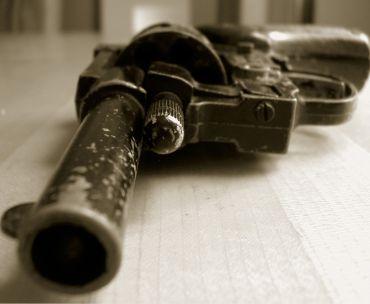 A Nationalist Congress Party member of Legislative Assembly posed with a fake gun in the Vidhan Bhawan premises on Monday, to draw attention to BJP minister Girish Mahajan who had tucked a revolver in his belt while attending an event for hearing impaired kids in Jalgaon recently.
The NCP had demanded Mahajan's resignation over the incident but this did not deter NCP MLA Jitendra Awhad from the adjoining Thane district, to brandish a fake gun outside the Vidhan Bhawan building.
Awhad, who is a former minister, posed with the fake gun on the steps of the the Vidhan Bhawan's entrance and even pointed it at some journalists. Meanwhile, reacting to the Jalgaon incident, Mahajan said that he had carried the weapon since the last 25 years since he had a license to do so.
"I did not brandish it nor threaten anyone with it," Mahajan said.