Security experts say there has been complacency in handling the Naxal issue since the number of attacks has gone down over the years. Vicky Nanjappa reports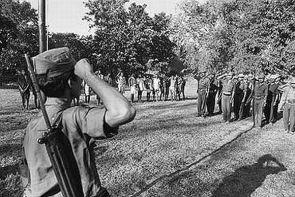 Despite several warnings, the convoy of Congress leaders seemed to have walked into a trap set up by the Naxals on Saturday.
The Naxals in Chhattisgarh had been planning a major attack since the past six months, but they had not expected it to be of such magnitude.
The close movement of the convoy made the attack much easier for the Naxals, say security officials. The standard operating procedure while passing through Naxal areas is for the convoy to be spread out, passing the area in intervals.
Naxal infested areas are usually laden with land mines and close movement of vehicles could only cause a higher impact.
On Saturday, several vehicles hit the land mines. Even before the security could react they were fired upon by at least 150 Naxals, which caused the heavy casualty. Had the standard operating procedure been followed, the impact of the land mines would have been limited to three vehicles, say security officials.
Officers suggest that the Naxals may not have expected the land mine to hit at so many vehicles. The idea might have been to open indiscriminate fire targeting mainly Mahendra Karma, the founder of the Salwa Judum movement.
Officers say there may have been some complacency on part of both the Congress workers and the state administration.
Bastar is notorious for Naxals and more ought to have been done. However, there has been a great deal of complacency in handling the Naxals since the number of attacks have gone down. There have been very few attacks compared to the 370 attacks witnessed in 2012. In 2011, the number of attacks was 465 and 2010 saw 625 naxal attacks.