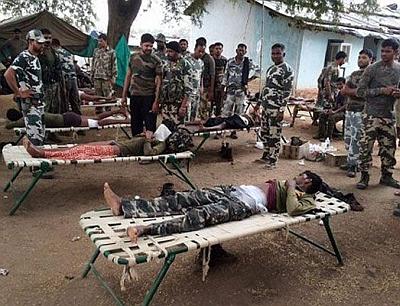 Bad weather and hostile terrain have hampered the evacuation operation in Chhattisgarh's insurgency-hit Sukma district where armed rebels had on Saturday ambushed a team of Special Task Force killing seven personnel.
"The operation is underway in Polampalli region to retrieve the bodies of martyred STF personnel," Additional Director General of Police (anti-Naxal operations) R K Vij said.
"The bad weather condition and hostile terrain have affected a bit (the operation), but very soon all the bodies will be retrieved," Vij said.
Keeping in view the sensitive nature of the region, the forces are extra cautious while carrying out the casualty evacuation operation, official sources in police department said.
"The area is considered as the stronghold of outlawed CPI (Maoist) where their military guerrilla companies are based. So security forces are extra alert while conducting casualty evacuation operation so that they would not fall into any kind of trap," the officer said on condition of anonymity.
Meanwhile, the injured personnel are undergoing treatment at Raipur and Jagdalpur.
Seven STF personnel were killed and ten others injured yesterday when Naxals ambushed them in the forests of Pidmel village under Polampalli police station limits, around 450 km from the state capital Raipur. The deceased included a platoon commander-ranked officer.
The two-hour gun battle took place in worst-affected Pidmel-Polampalli area of the district when a squad of state police STF was conducting a search operation.
Officials said a group of about 300 Maoists opened heavy fire on the police team.
They said the 70 personnel strong STF squad was confronted with a volley of bullets in the forest which is at the south axis of the Dornapal-Chintagufa area where several ambushes and killings of security forces had taken place in the past, including the most deadly when 76 personnel were killed here in 2010.
Officials said a "good number" of weapons of the martyrs and injured troops were looted by Naxals before fleeing.
The encounter has heralded the first major Tactical Counter Offensive Campaign operation which is conducted by Naxals to gain ground every summer, they said.