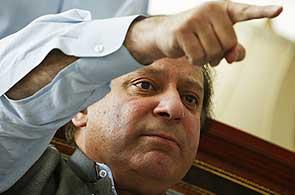 Pakistan Prime Minister Nawaz Sharif's ruling Pakistan Muslim League-Nawaz has emerged as the single largest party in the legislative assembly elections in the strategically-located Gilgit-Baltistan region.
India had objected strongly to the elections in Gilgit-Baltistan, saying it is an attempt by Pakistan to "camouflage its forcible and illegal occupation" of the regions which are integral part of the country.
Sharif's party won 14 out of 24 seats, which were contested by 272 candidates of various parties in the elections held on Monday, Radio Pakistan reported.
Former president Asif Ali Zardari's Pakistan People's Party could win only one seat in the elections, while former chief minister Mehdi Shah failed to win his own seat. Two women had contested the elections but both were defeated.
According to unofficial results, three independents have also won while Shia religious party Majlis Wahdatul Solemn secured two seats.
Cricketer-turned politician Imran Khan's Pakistan Tehrik-i-Insaaf failed to make any major inroad in the region as only one of its candidates succeeded.
The All Pakistan Muslim League of former military ruler Pervez Musharraf failed to win any seat.
Traditional Islamic parties like Jamiat Ulema-i-Islam-Fazl and Jamaat-i-Islami failed to make impressive show. The government had taken stringent security measures and army had been deployed at all polling stations and at key entry and exit point of the region.
Technically, Gilgit-Baltistan is not included in Pakistan, but for all purposes, it is like the four provinces of Pakistan after devolution of power in 2009 which not only changed its name from the northern areas to present Gilgit- Baltisitan but also provided it with local assembly. It is strategically located and provides the only land link with China.
The $46 billion China-Pakistan Economic Corridor is also proposed to pass through the area, which India objects due to the disputed status of the region.

Image: Pakistan Prime Minister Nawaz Sharif