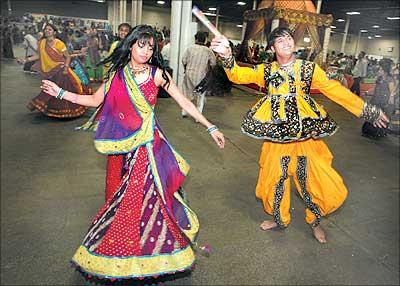 Navratri is a wonderful and memorable fortnight where tradition and religion come together to remind a people of their identity and culture.
Considered a period for observers to fast and engage in introspection, Navratri is a nine-day celebration in which nine Hindu goddesses are worshipped. It originates from two words, 'nav' which means nine and 'ratri' which means night.
Considered one of the biggest Hindu festivals, Navaratri rolls in around late September or early October and celebrates the valour and glory of the female Hindu goddess, Shakti and her forms. But, the festival is not just about paying obeisance to the goddess, it is also a time for celebrating the win of good over evil. Hence fun and frolic is an integral part of the festivities.
The customs for Navarati vary in different regions and communities, but there is one common thread that binds them all -- dance.
The most popular dances for Navratri festivals are the garba and the dandiya raas and unlike other popular Indian dances -- like Bharata Natyam or Kuchipudi -- these dances focus more on the social aspect of dance rather than presenting style.
Garba, is an Indian dance form that has its roots in Gujarat and consists of large group of people dancing in circular motions. It started off as a devotional dance performed in Goddess Shakti's honor.
The name garba comes from the Sanskrit term Garba Deep, which means inside a small earthen lamp. It is for this reason that many traditional garbas are performed around a central-lit lamp. Traditionally, either the lamp (the Garba Deep), or an image of Shakti/Amba (the goddess mother) is placed in the middle of the concentric rings as an object of veneration and people dance around the deity clapping and dancing to the rhythmic melody. The dance involves gracefully bending sideways, bringing the arms together in sweeping gestures -- up and down, left and right -- and each movement ending in a clap.
Another popular form of dance for Navaratri is the raas or dandiya raas. Along with garba, it is one of the most popular forms of dance at Navratri gatherings in Western India. Very similar to garba, where men and women dance in circles, the dandiya raas requires the use of two colourfully decorated sticks instead of bare hands. The dandiya or sticks, are about 18 inches long with each dancer having two sticks (although, when they are short on dandiyas, they use just one in right hand) and generally dancing to a four beat rhythm, creating a nice sound. One circle goes clockwise and another anti-clockwise.
The sticks (dandiyas) of the dance represent the sword of Amba. The women wear traditional dresses such as colorful embroidered choli (short blouses), ghagra and bandhani dupattas (traditional attire) dazzling with mirror work and heavy jewellery. The men wear special turbans and kedias.
In the old times the raas was mainly performed on the beat of the dhol and singing entered the raas scene only much later. Initially, most songs were about Lord Krishna but topics such as love, praise of gallant worriers, Goddess Amba and even Muslim raas songs were born. Then with the advent of cassettes came the pre-recorded "non-stop" raas music, which overtook individual raas items rarely recorded nowadays. With the age of the remix and Bollywood songs, the dance has now evolved from being performed on purely instrumental music to being performed on remixed Hindi songs.
Head bobbing during raas has become a popular dance step among youngsters in the US, with constantly emerging and evolving dance forms to be included in the raas. A new form taking place in the USA these days is where the youth mix non-stop raas music with strong drum beats and stunts. They freely mix traditional steps with modern dance. This ups the tempo and also attracts many people who are not of Indian origin because of its fusion elements. The raas will always be a dynamic dance form and even though its origins lie in the folk form, it is bound to keep changing with time.
As Indian Diaspora spreads across the world, the festival today is no longer celebrated only in India. Indians settled in different parts of the world widely celebrate this festival and see it as an opportunity to be connected to their roots and live their culture in a different land. An elaborate ritual of worship and solemn offering of prayers is followed by fun and enjoyment.
Every year, these nine days are an invitation to wear your best clothes and put your best foot forward. Across oceans, young and old enthusiasts, raise their dandiya sticks in celebration.
Here are some of the places in the US, to hit the dance floor for a fun night of dancing, good food and living the Indian culture.
ISSO and Natu Patel presents Raas Garba in Los Angeles
Where: Anaheim Convention Center, CA
When: October 18, 2008
Time: 8.30 pm onwards
Contact: Natubhai Patel -951-318-7375
Indo-American Religious Cultural Center Inc Navratri 2008
Where: Garden State Exhibit Center, NJ
When: October 10 to 11
Time: 9.30 pm onwards
Contact: 646-432-6027 or 646-432-6060
The performance will be by a Mumbai Entertainment Dandiya Group and will be graced by the presence of Bollywood celebrities.
Sree Devi Navratri Celebrations
Where: Ganesh Temple 45-57 Bowne St, Flushing, NY 11355
When: October 8, 2008
Contact: 718-460-8484
Falguni Pathak Dandiya Dhoom 2008
(New Jersey, Chicago, Atlanta and Boston)
Where: Expo Raritan Center, Edison, NJ
When: October 10 to 11
Time: 9 pm onwards
Contact: 718-639-9200
Where: Chicago
When: October 17
Contact: 773-552-6083
Where: North Atlanta Trade Center
When: October 18
Contact: 718-639-9200
Where: Boston
When: October 19
Contact: 617-851-9477
Dandiya queen Falguni Pathak will be performing her trademark songs in cities all over the US Also present at the events will be television stars Deven Bhojani aka Gattu and Sakshi Tanwar of Kahaani Ghar Ghar Ki.
Jersey City Asian Merchants' Association presents Navratri 2008
Where: Jersey City
When: October 10 to 11
Contact: 201-659-8844 e-mail JCAMA49@MSN.COM
Guaranteed to be one big religious and cultural block party, the Jersey City Asian Merchants Association organizes its annual celebrations in what is known as "Little India". The festivities take place between Kennedy Boulevard and Tonnelle Avenue and the organizers say it is the largest outdoor Navratri in the US
Gujarati Samaj Of Metropolitan Washington
Where: Montgomery College Germantown campus, MD/NOVA community College, Annandale, VA
When: October 10 to 11, October 17
Contact: president@dcsamaj.org
Gujarati Association of New England celebrates Dandiya Dhoom 2008
Where: Wyndham Hotel, Andover, MA
When: October 10 to 11
Contact: 718-270-0369/978-392-8683 or visit http://www.gurjar.org
Come celebrate the festivities of Navratri with professional musical dandiya groups from India on all four nights.
Triangle Gujarati Association's Navratri Garba
Where: Hindu Society Cultural Hall, Morrisville, NC 27560
When: October 18
Time: 8 pm onwards
Contact: 919-362-0520/919-439-7134
Rock to the melodies some of the best dandiya groups namely Nathkhat (with Kuntal Shah on drums and Kenz Desai on keyboard) and Brij Joshi and party.
Gujarati Sama of Austin's Navratri celebrations
Where: Millennium Youth Complex of Austin
When: October 10 to 11
Time: 7.30 pm onwards
Contact: Ambubhai Patel- 512-507-5816 or Kalpana Patel- 512-779-3457
Photograph: Paresh Gandhi