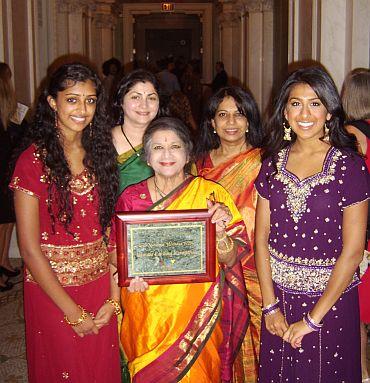 Kamala Lakshmi Narayanan, popularly known as Kumari Kamala during her early career in India, last month became the first Bharata Natyam artist in the United States to receive the prestigious National Heritage Fellowship for 2010, the country's highest honour in the traditional and folk arts.
Narayanan, a recipient of the Indian civilian honour the Padma Bhushan, was conferred the fellowship at a ceremony hosted by the National Endowment for the Arts at the Library of Congress.
The veteran artist was among a select group of nine master artists from different fields to receive a plaque with a citation engraved in marble, from NEA Chairman Rocco Landesman.
Kamala said the award marked the "fulfillment" of her hopes when she moved to the US more than 30 years ago, and was happy at the recognition of Bharata Natyam as "part of the rich and varied heritage of the country."
She dedicated the award to the memory of her guru Vazhuvoor Ramiah Pillai, and observed that receiving it in the centennial year of his birth held a "special significance" to her.
The awards ceremony was followed by a banquet set in the Great Hall of the Library of Congress. Later, Barry Bergey, director, folk and traditional arts, NEA, explained that the panel of experts deciding on the honorees felt that if "anyone in Bharata Natyam deserved the award, it was Kamala."
The culmination of the National Heritage events was a celebratory concert at the Strathmore Music Center in Bethesda, Maryland, featuring each awardee and his/her art.
The event was attended by a full house of about 2,000 people who appreciated the eclectic presentation of the country's traditional and folk artists featured this year. The presentation was emceed by Nick Spitzer, folklorist and host of the National Public Radio show American Routes.
In a conversational setting, Narayanan presented the essence of Bharata Natyam, supported by a live orchestra comprising singer Neela Ramanuja, mridangam player Hari Babu, flautist Vivek Krishna and morsing player Manjunath.
The demonstration was followed by Rubica and Pooja Aier, Narayanan's students.
Image: Kamala Narayan, center, with the plaque she received