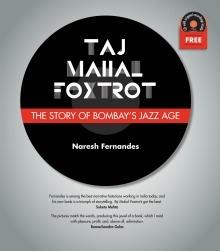 Author-journalist Naresh Fernandes has won the 2012 Shakti Bhatt First Book Prize for Taj Mahal Foxtrot: The Story of Bombay's Jazz Age, an account of the city's thriving music scene between the 30s and 60s.
His appearance on the shortlist was not without drama. Fernandes is the co-author of Bombay Then and Mumbai Now, a historical narrative, and co-editor of Bombay Meri Jaan. Could this then be considered a first book?
Longlist judges, poet/author Jeet Thayil and writer/arts consultant Sanjay Iyer, sifted through a record 96 books to come up with the final six.
Thayil said in a note, "Bombay Meri Jaan was co-edited by Fernandes, so it doesn't count. Bombay Then, Mumbai Now was billed as being co-authored, but Fernandes only wrote an essay. It's a coffee-table book of photos. Would it have been eligible for a first-book prize? Yes, but the photographer would have been the author. Technically (and intuitively), Taj Mahal Foxtrot is Fernandes' first book."
The shortlisted works were sent to the 2012 panel of judges: literary agent and author David Godwin, poet, dancer and novelist Tishani Doshi, and author Basharat Peer.
 "We unanimously agree that Naresh Fernandes should win for Taj Mahal Foxtrot. This year's shortlist for the Shakti Bhatt Prize was strong and diverse, ranging from an account of the fall of the last King of Burma to a contemporary exploration of womanhood in Chennai. We decided on Taj Mahal Foxtrot, not just because of the original subject matter, but also because of the huge talent that is Naresh Fernandes. He writes with warmth, humour and a great deal of perception about a city he clearly loves," said Doshi.
The prize will be presented on December 20 at the British Council Auditorium, New Delhi. Last year's winner was Jamil Ahmad's The Wandering .Falcon.