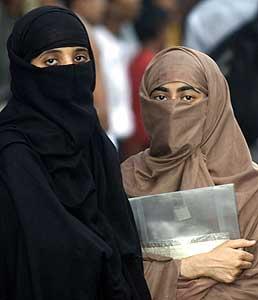 Narendra Modi's Jaipur rally on Tuesday courted controversy over a purported direction by the Bharatiya Janata Party -- asking Muslims to come dressed in skull caps and burqas -- as critics questioned the motive behind the "dress code".
The BJP claimed that the direction, by its Minority Cell, has been "misunderstood".
Congress General Secretary Digvijay Singh sought to know if the BJP was trying to enforce a "dress code" or was playing "vote bank politics" by asking Muslims to attend its meetings wearing 'burqas' and skull caps.
"Whether it is a dress code or vote bank politics is a question which the media should ask the BJP," he said in a tweet.
The BJP claimed that the instruction was that any woman wearing a burqa should not be stopped from entering the venue as, it alleged, was done at a Congress rally, citing security reasons.
"People were allowed to attend the rally in their traditional dresses, irrespective of whether women were wearing burqa or jeans or men had topi, safa, pagri, as headgear did not matter," said party spokesperson Jyoti Kiran.
Vimal Katiyar, another spokesman, said, "BJP Minority Morcha state President Ameen Pathan had directed in his recent meeting, on the eve of the rally, that any woman wearing burqa should not be stopped. She should be allowed to enter the women's blocks at the rally venue".
"Same instructions were given for men wearing any headgear -- topi, pagri or scarf. The entire subject was misunderstood and misinterpreted in the media," he said, adding that SMSes were sent to party workers right from the booth level to invite people to the rally.
Scores of burqa-clad women attended the rally by Modi, who is believed to be days away from being named the BJP's prime ministerial candidate.
Modi has been accusing the Congress of following a policy of appeasement of Muslims and had even said that it was wearing a "burqa of secularism".
Kiran said no separate sitting blocks were set up for any community in the rally, which was addressed by Modi and party president Rajnath Singh.
"No distinction is made on the basis of minority or any other caste and creed. The BJP does not discriminate on the basis of religion, caste or creed," she said.
"Of course, women wearing burqa were comfortably sitting in the women's blocks without any discrimination," she said.
Katiyar alleged that during a public rally by the Congress, Muslim women wearing burqas were not allowed due to security reasons.
Photograph for Representational Purposes Only ' Photograph: Reuters
© Copyright 2021 PTI. All rights reserved. Republication or redistribution of PTI content, including by framing or similar means, is expressly prohibited without the prior written consent.