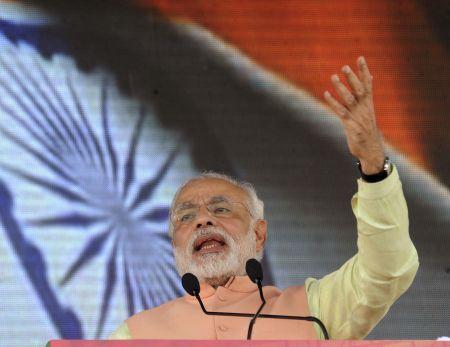 Former Bihar Deputy Chief Minister Sushil Kumar Modi on Monday claimed that Bharatiya Janata Party's prime ministerial candidate Narendra Modi was the "target" of the serial blasts carried out by Indian Mujahideen modules in Patna.
Modi was the "prime target" of the IM modules as a bomb was found within 100 metre of the dais erected for senior BJP leaders, including the Gujarat chief minister, Sushil Modi claimed before reporters in Patna.
It was a providential escape for Modi that the bomb did not go off and was detected timely and defused by the bomb disposal squad, he claimed.
The planting of a bomb close to the dais clearly pointed to the fact that the IM modules had "hatched a conspiracy to kill" the BJP prime ministerial candidate, Sushil Modi claimed.
He criticised Bihar Chief Minister Nitish Kumar for his failure to provide adequate security to his Gujarat counterpart and at the rally venue despite an intelligence alert sent to the state government on October 23 last expressing threat perception to the BJP prime ministerial candidate during his Bihar visit.
Even otherwise, the central intelligence agencies had put out a general alert about the prospect of terror attacks being planned by the IM operatives and asked all governments, including Bihar to step up security measures, he claimed.
He charged the Patna police with not carrying out an Advanced Security Liaison with the 20-member Gujarat police team nor following other drills like dress rehearsal and anti-sabotage check at the rally venue for Modi's visit, besides putting in place equipment like CCTV cameras and metal detectors at the venue.
He slammed the state government for claiming deployment of adequate security and lack of intelligence inputs on terror threat to Modi and Hunkar Rally.
On whether the BJP prime ministerial candidate was advised to return from the airport after news about serial blasts, the Bihar BJP leader said Modi ignored advice from Gujarat Police and came to Gandhi Maidan to address the rally on the ground that cancellation would have disappointed the gathering.
Even at the rally venue, senior IB officials briefed BJP national president Rajnath Singh and Arun Jaitley about the serial blasts and urged them to cancel the rally, but the duo in consultation with Modi chose to go ahead, he claimed.
Image: Narendra Modi addressing supporters at Patna's Gandhi Maidan on Sunday shortly after serial blasts rocked the venue
Photograph: Krishna Murari Kishan/Reuters
© Copyright 2022 PTI. All rights reserved. Republication or redistribution of PTI content, including by framing or similar means, is expressly prohibited without the prior written consent.