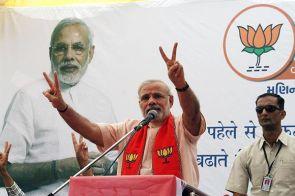 Congress has alleged that Chief Minister Narendra Modi will address only one public rally in poll-bound Karnataka as he was indebted to Karnataka Janata Party chief B S Yeddyurappa, who had supported his candidature for the post of prime minister.
"Karnataka's former Chief Minister B S Yeddyurappa had pledged his support to Modi for the prime minister's post and so Modi is repaying his debt to Yeddyurappa by addressing just a single public rally in the state," Gujarat Congress spokesperson Jayrajsinh Parmar said in a statement.
"At a BJP national executive council meeting, Yeddyurappa had said that Narendra Modi was his first choice as a prime ministerial candidate and openly supported him. Modi is repaying his debt to Yeddyurappa by addressing just a single public rally in the state," Parmar claimed.
Reports from Karnataka said that Modi will address his first public meeting in that state on Sunday, which might be the only rally he would address in the poll-bound state.
During BJP's foundation day celebrations here on April 6, Modi had made tall claims to work for party and to remain faithful to the party, Parmar claimed.
"But, now Narendra Modi is not going to Karnataka for his party seeing BJP's fragile situation over there," he said, adding, Modi did not want to spoil relations with Yeddyurappa.
Parmar said that by not campaigning aggressively in Karnataka for the BJP, he was not doing justice to the party and was putting national president Rajnath Singh in a pitiable position.
Terming Modi as a selfish leader afraid of defeat, Parmar said "If a person is not loyal to the party and cannot fight or campaign to ensure its victory in the polls, how can that person claim to be the chief of a party?"
"Narendra Modi does not have support within his own party for his prime ministerial candidature. Modi knows that even allies of the National Democratic Alliance (NDA) are not keen to support him," he alleged.
The truth is that BJP does not have any leader of national stature and that is why they are trying to promote Narendra Modi as a national leader, he said.
Even Rajnath Singh does not know how many NDA allies will support Modi for the PM's post, Parmar said.
If Modi tours the entire nation and campaigns for the BJP, it is actually good for the Congress, he said, adding, Rajnath Singh should decide in which seats he would campaign and which ones he won't, so that people would know how many seats BJP lost and how many it won, because of him.
Polls will be held in Karnataka on May 5 and counting of votes will take place on May 8.
© Copyright 2021 PTI. All rights reserved. Republication or redistribution of PTI content, including by framing or similar means, is expressly prohibited without the prior written consent.