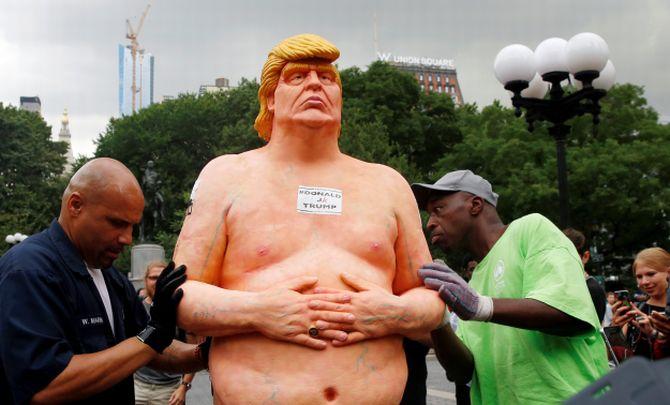 The sole surviving naked statue of Republican presidential candidate Donald Trump created by California-based anarchist art collective INDECLINE will be put on auction on October 22.
The life-sized artwork was unveiled on Hollywood Boulevard in mid-August.
Four other naked Trumps appeared in New York, San Francisco, Seattle and Ohio, but all were confiscated or destroyed, with officials pointing to regulations banning 'any unpermitted erection in city parks, no matter how small'
Amused and surprised passersby had flocked to take pictures with the statue showing a stern-faced Trump with trademark flock of bright yellow hair and hands folded over a bulging belly, with an engraved plaque saying 'The Emperor Has No Balls'.
Julien's Auctions in Beverly Hills said on Wednesday that the estimated value of the sculpture is somewhere between $10,000-20,000 (Rs 6,70,000-13,40,000).
A portion of the proceeds from the sale will go towards the National Immigration Forum, a leading immigrant advocacy organisation, the auction house said.
The statue was rescued by La Luz de Jesus Gallery before it could be taken and melted down.
According to the INDECLINE spokesperson, the statues all went up without a hitch using 'insult teams with hard hats and neon construction vests'.
A report in NBC News quoted the group as saying that the hope behind putting up the statues is that Trump 'is never installed in the most powerful political and military position in the world'.
'It is through these sculptures that we leave behind the physical and metaphorical embodiment of the ghastly soul of one of America's most infamous and reviled politicians,' the group said in a statement.
Julien's said the 'explicit statue had quickly become a symbol of political protest art and garnered international coverage when the gallery refused to hide or censor the statue, choosing instead to display it prominently and in public view'.
IMAGE: New York City Parks workers move a naked statue of Republican presidential nominee Donald Trump that was left in Union Square Park in New York City. Photograph: Brendan McDermid/Reuters