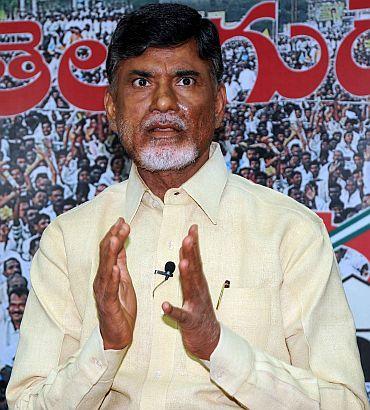 The fight between Jaganmohan Reddy and Chandrababu Naidu for the political supremacy in Seema-Andhra region has taken an interesting turn.
Within hours of Jagan announcing that he will be going on fast unto death in Hyderabad from Saturday, his bête noire Telugu Desam president and former Chief Minister N Chandrababu Naidu has gone one step further and said that he will sit on fast unto death in the national capital to mobilise support from other parties against the "mean and conspiratorial politics" of Congress.
YSRCP and the TDP were earlier locked in a similar race over padyatras. Soon after Chandrababu Naidu had announced statewide padyatra last year, Jagan's sister Sharmila also launched a bigger padyatra. Both the leaders eventually walked for a record breaking distance and covered most part of the state by foot.
Naidu who appeared to be losing control over his emotions, told a media conference on Friday evening that he was going on fast to demand equal justice to Seema-Andhra region.
He evaded question about his own stand in the past supporting Telangana state. He said the Congress and Prime Minister Manmohan Singh had failed in tackling the problems of Seema-Andhra people.
"They should have dealt with this sensitive problem in a more systematic manner. Is this the way? They should have spoken to both the sides and solve the problems before announcing the decision", he said.
Naidu found fault with the Union Cabinet for taking up the sensitive issue of Telangana as a "table item" without including it in advance in the agenda.
"Where is the need for such hurry", he asked.
Naidu alleged that Congress president Sonia Gandhi was treating Andhra Pradesh as her personal property and was playing with the future of crores of Telugu people.
"Situation has come to such a pass that even the chief minister and ministers were criticising their own party", he said.
However, Naidu's main emphasis was on the alleged match fixing between YSRCP and the Congress party. He alleged that every thing -- right from the release of Jaganmohan Reddy on bail in corruption case -- was part of the match fixing.
"Jagan is now acting as per the script prepared in New Delhi", he alleged.
Alleging that Congress was indulging in mean politics for the sake votes and seats, Naidu appealed to all the political parties to stop this sinister game. When asked about the BJP which was also supporting the creation of Telangana, Naidu said his appeal was to all the political parties.