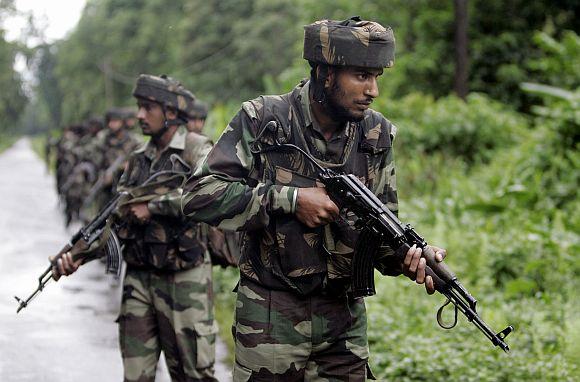 At least seven insurgents belonging to Naga rebel group, Nationalist Socialist Council of Nagaland-Khaplang, including one woman cadre, were killed in an exchange of fire with security forces that took place at Pangsha in Tuensang district of Nagaland close to Indo-Myanmar border.
A defence source informed that a patrol party of security forces while carrying out routine domination of the border area along the Pangsha town came face-to-face with one motorcycle, one Gypsy and one Bolero vehicle approaching along the road.
Just as the security force patrol asked the motorcycle to halt for checking, there was intense firing from the Gypsy and Bolero vehicles which were following the motorcycle.
Seven cadres of NSCN-K were neutralised while three over ground workers of the outfit were injured in retaliatory fire by the security forces.
The security forces displayed a high order of restraint and fire discipline to ensure that the OGWs did not suffer fatal injuries during the fire fight. A large quantity of arms and ammunition were recovered from the slain NSCN-K cadres.
One soldier of security forces was also injured in the firing from NSCN-K cadres.
The insurgents who have been neutralised were from the NSCN-K camp located at Ponyu village inside Myanmar and belong to the group headed by one self-styled Lt Gen Niki Sumi.
There have been regular inputs on movement of NSCN-K cadres from camps located inside Myanmar to the border villages of India for collection of extortion money (sent from Dimapur, Kohima etc.), illegal taxation from villagers, purchase of ration and other daily necessities.
The trans-border movement of the NSCN-K cadres was being carried out under the garb of Free Movement Regime existing between the two countries.
However, since the rules of Free Movement Regime are not being implemented effectively by the border administrations, the loopholes are being exploited by the anti-social elements including cadres of insurgent groups including NSCN-K, United Liberation Front of Assam, National Democratic Front of Bodoland-Socialist etc. for unhindered movement across the border.