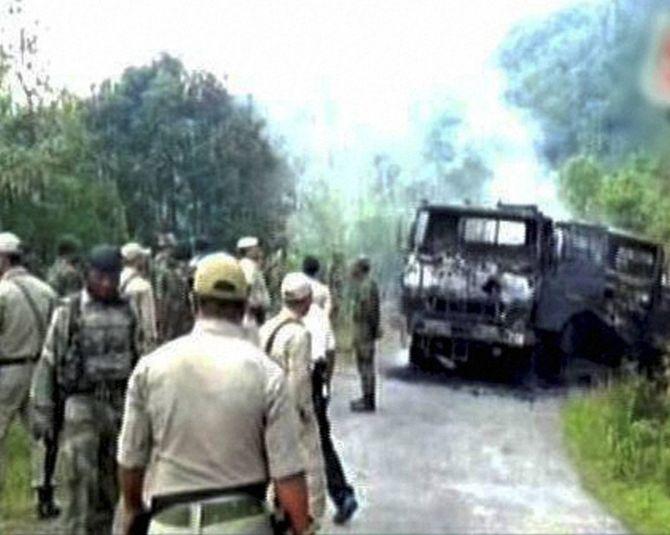 Naga insurgent outfit Nationalist Socialist Council of Nagaland-Khaplang, with which the Centre abrogated ceasefire in March, has claimed responsibility for the ambush in Manipur in which 18 army personnel were killed and 11 others injured.
The militant outfit in a release dated June 4, which was circulated in the media, claimed that the attack on Thursday was a joint operation by it, Kanglei Yawol Kanna Lup and Kangleipak Communist Party.
The release claimed that 20 army personnel, including a junior commissioned officer, were killed and 12 others injured in the incident.
It claimed that during the attack a five-vehicle convoy of 6th Dogra Regiment was "assaulted" at Tengnoupal-New Somtal Road in Chandel district of Manipur.
READ: Army launches huge operation against North-East terrorists
"The assault started around 6 am and lasted till 9 to 10 am," the release said, adding the offensive was launched in 'sync' by the outfits.
After the ceasefire abrogation in March this year, NSCN-K had on May 3 attacked and killed nine Assam Rifles personnel in Mon district. Another AR personnel was killed in Kohima on May 6 by the insurgent outfit, while four personnel of the para-military force were injured in an attack by the group at Kohima in April.
Image: Security personnel at the spot where military convoy was attacked by insurgent groups, killing 18 and injuring 11 army personnel. Photograph: PTI