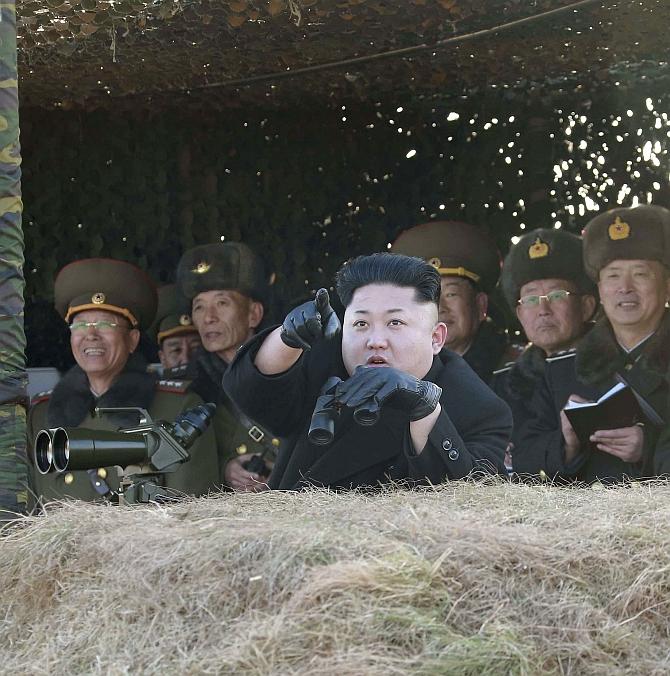 Hailing the successful test of its latest missile on Thursday, North Korea on Friday said that it was a new type of surface-to-ship cruise missile, designed to hit 'any enemy group of battleships' that threatened the country.
'The launched cruise rockets accurately detected and hit the floating targets on the East Sea of Korea,' the state-run Korean Central News Agency said, referring to the Sea of Japan -- where two US aircraft carriers were carrying out naval manoeuvres last week.
The Thursday launch was overseen by leader Kim Jong-un, KCNA said.
It was North Korea's fifth weapons test in a month and came less than a week after the United Nations tightened sanctions against the regime.
North Korea has ordered three ballistic missile launches, a surface-to-air missile, and now Thursday's cruise missile tests since South Korea's new President Moon Jae-in took power in early May.
The short range missiles flew some 200 kilometres which is an improvement on a 2015 test, when a North Korean surface-to-ship cruise missile flew only 100 kilometres, said Korea Defence Forum analyst Shin Jong-woo.
KCNA said that the weapon tested on Thursday had been part of the military parade in Pyongyang on April 15 to mark the birthday of the North's founding father Kim Il-sung.
All of the weapons on display at the extravagant military parade have been tested in the last month, except for one which analysts said appeared to be an intercontinental ballistic missile, Yonhap news agency reported.
Any North Korean tests using ballistic missile technology are banned by UN resolutions.