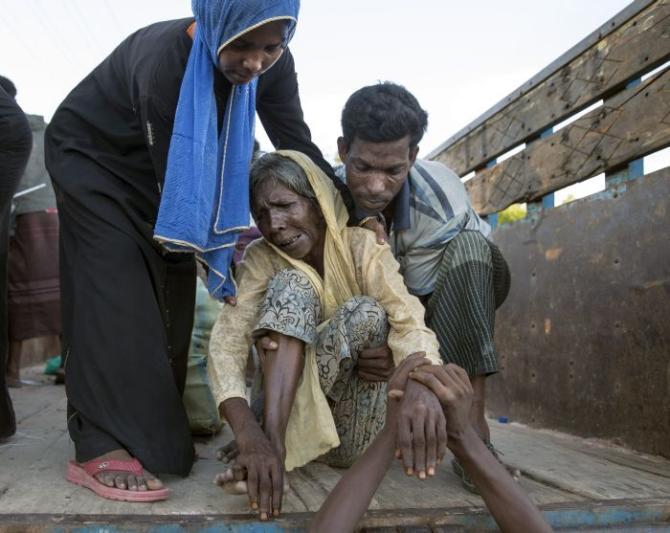 Myanmar on Monday proposed to take back over half a million of its Rohingyas from Bangladesh as the two countries agreed to set up a working group to coordinate the repatriation of the minority Muslims who have fled across the border after a military crackdown.
More than half a million Rohingya have arrived in Bangladesh over the last five weeks after militant attacks on police check posts in the Buddhist majority country sparked violent reprisals. Bangladesh has repeatedly urged Myanmar to repatriate them.
Bangladesh's Foreign minister A H Mahmood Ali on Monday held talks with a senior representative of Myanmar's civilian leader Aung San Suu Kyi.
"Myanmar has proposed to take back the Rohingyas from Bangladesh," Ali told newsmen emerging from an over one hour long meeting with Minister for the Office of the State Counsellor of Myanmar Kyaw Tint Swe.
The two sides agreed on forming a joint working group to oversee the repatriation process but its composition would be decided later by both the countries, he said.
Ali said the meeting was held "in a peaceful manner" and Bangladesh handed over the Myanmar representative a proposed agreement for smooth refugee repatriation and suggested implementation of Annan Commission report for peaceful resolution of the crisis.
"Fruitful discussion was also held on security cooperation (in the meeting) when Bangladesh reiterated its zero tolerance policy against all sorts of terrorism," Ali said.
Asked if there was any timeframe fixed for forming the joint working group, the minister evaded a direct answer saying "the process has started" but said Bangladesh's Home Minister Asaduzzaman Khan would "soon visit Myanmar to discuss the issue".
Bangladesh Prime Minister Sheikh Hasina earlier called for an end to the violence and for safe zones to be set up in Myanmar to enable refugees to return.
She asked the United Nations to send a fact-finding mission to Myanmar and for Myanmar to implement recommendations drawn up by a former UN secretary-general Kofi Annan-led team on solving problems in Rakhine.
Khan and senior Bangladesh officials joined the meeting, which came after the overnight arrival of Kyaw Tint Swe.
There was no immediate comment from Suu Kyi's representative, who arrived on Sunday night amid mounting global pressures on the country over exodus of its ethnic minority Rohingya nationals to Bangladesh.
The latest influx of refugees began on August 25 when Myanmar's military launched a crackdown in the northern Rakhine State over alleged terrorist attacks on its police outposts.
With the latest influx, there are now more than 800,000 refugees living near Bangladesh's border with Myanmar.
The refugees claimed the Myanmar security forces were shooting at civilians, setting fire to their homes and raping Rohingya women.
Nobel peace laureate Suu Kyi, who has been severely criticised for her failure to curb the military crackdown on the Rohingya, said in a speech last month that Myanmar would take back "verified" refugees.
She said Myanmar was ready to start a verification process under a 1993 agreement with Bangladesh and "refugees from this country will be accepted without any problem".
Rohingyas, a Muslim minority, do not qualify for Myanmar citizenship even though many have lived there for generations while its army insists they are interlopers from across the border in Bangladesh.
Image: New arrivals are unloaded from truck confused about where they are going next after a three hour ride from the border area on October 1, 2017in Balukhali, Cox's Bazar, Bangladesh. Over a half a million Rohingya refugees have fled into Bangladesh since late August during the outbreak of violence in Rakhine state causing a humanitarian crisis in the region with continued challenges for aid agencies. Photograph: Paula Bronstein/Getty Images