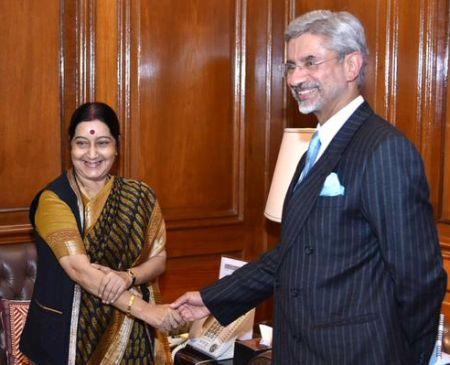 External Affairs Minister Sushma Swaraj meets newly appointed Foreign Secretary S Jaishankar. Photograph: MEA

S Jaishankar took charge as foreign secretary, replacing Sujatha Singh whose tenure was abruptly "curtailed" late on Wednesday night, a move which evoked a sharp reaction from Congress.
On December 28, Sheela Bhatt/Rediff.com was the first to reveal that S Jaishankar was likely to replace Sujatha Singh as foreign secretary.
"My priorities are the government's priorities. So, I think at this time let's leave it at that.... This is a big responsibility. I would say that I am very honoured that I have been assigned this responsibility," said Jaishankar, a 1977-batch Indian Foreign Service officer, when asked about his sudden appointment.
Singh was not present when Jaishankar took charge at the South Block office. Jaishankar will have a two-year tenure as per rules.
Before his appointment as foreign secretary, the 60-year-old diplomat was India's ambassador to the United States. He had also been posted as ambassador to China, Singapore and Czech Republic.
The decision to appoint Jaishankar, who played a key role during Prime Minister Narendra Modi's visit to the US in September and US President Barack Obama's just concluded visit in New Delhi, was taken by the appointments committee of the cabinet chaired by Modi.
Singh had taken over as the third woman foreign secretary in August, 2013 and had nearly eight more months to serve.
Jaishankar, son of late K Subrahmanyam, one of India's leading strategic analysts, was a key member of the Indian team which negotiated the landmark Indo-US nuclear deal.
However, his appointment evoked a sharp reaction from the Congress which questioned the timing of the government's decision to remove Singh as the foreign secretary and wondered whether it was "retribution" for her stand on IFS officer Devyani Khobragade.
Defending the move to replace Singh, the Bharatiya Janata Party ruled out any political motive and said the government had acted well within its rights.

Also read: Modi humbles two ladies with one sling