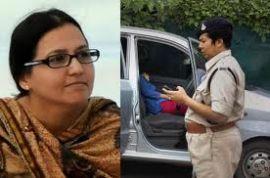 Murdered RTI activist Shehla Masood's father on Thursday told a special court in Indore that his daughter had friendship with many persons, including BJP leaders.
Sultan Masood appeared as a prosecution witness before the CBI court, conducing trail in the last year's murder of the activist, and was cross-examined by two defence counsels for over three-and-half hours.


He was in the house when Shehla was shot dead outside her residence in Bhopal on August 16, 2011.
Sultan, who deposed before Judge Anupam Srivastava, was first examined by CBI senior public prosecutor Hemant Shukla and subsequently crossed-examined by A J and Sunil Srivastava, the counsels for main accused Zahida Pervez and Sabha Farooqui respectively.
During cross-examination, Sultan said her daughter had friendship with many persons, including BJP leaders Dhruvnarayan Singh (MLA) and Tarun Vijay (Rajya Sabha MP).
When insisted by defence counsels to define her ties with the duo, Sultan said Shehla had "cordial" relations with Singh and ghanishth mitrata (close friendship) with Vijay.
Singh and Vijay's names had cropped up during the CBI probe into the murder case, but the agency gave them clean chit and their names do not figure in the charge sheet.
Asked whether he approached or called Singh after Shehla's murder, Sultan said he did call him but the MLA expressed inability to come as he was in a temple in Ujjain.
To another query, Sultan said Singh used to often come to their house for dinner or lunch. But he had not visited her for more than one-and-half years before Shehla's murder.
When Bhojwani asked the witness whether he had any information about Shehla possessing any material or documents that could cause worry for Madhya Pradesh government, Sultan said he once overheard her saying, "Mere pas aise koi cheej hai, jis se sarkar hil sakti hai" (I have something which can rattle the government.)
Sultan felt uneasy during the deposition and he was given a chair and water.
Shehla was once branded an "ISI agent" by a magazine and later by some people. Shehla had asked the police to probe this fake charge which was never proved, Sultan said. She started her career in event management and also got into small businesses before becoming an RTI activist, her father said, adding many times she suffered financial losses but he does not know who compensated those losses.
Later talking to reporters, Bhojwani said he cross-examined the prosecution witness to establish that Shehla had a number of enemies around her.
After the lunch break, Sultan was cross-examined by another defence counsel Srivastava.
Sultan said Shehla was found unconscious in her car after being shot. She was shifted from the driver seat's to the adjacent seat by a relative, Sayyed Rahil Hussain.

Three more prosecution witnesses will depose on Friday.
In the CBI chargesheet, Zahida, an interior designer and a friend of Shehla, has been named as the prime accused along with four others.
Other accused are Zahida's friend Saba Farooqui, and alleged criminals Irfan Ali, Tabish Khan and Saquib Ali 'Danger'. All five have been charged for murder and criminal conspiracy.