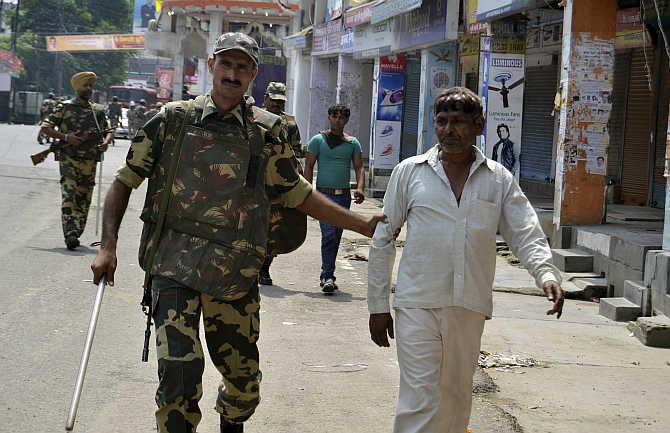 Under fire after two police officers reportedly admitted delaying action to contain Muzaffarnagar riots under "political pressure", Uttar Pradesh Minister Azam Khan on Wednesday said he has nothing to do with it and that he didn't want to give any clarification.
"The news channel which has aired the sting operation should itself a conduct a probe into it....All my phone numbers including that of my residence and office should be scanned."
"And if I am found guilty, the channel should tell the punishment for me...I will accept the harshest of punishments, if found guilty....I am not that type of a person," Khan told mediapersons.
He alleged that in the sting operation, the channel's reporter put words in the mouth of a police officer and added that there was a beep sound when the question was asked.
"This is not fair. Why is there a beep sound when the reporter is asking a question," Khan said.
Two police officers in Muzaffarnagar district were on Tuesday night shifted in the wake of a sting operation by a news channel, in which they reportedly admitted to having delayed taking action to contain the violence under "political pressure".
Inspectors of Budhana and Fugana police stations were shifted on Tuesday night. The police termed the transfers as routine. Khan said that he has never interfered in administrative or police working and would "prefer to die instead of doing something like that".
"Such a trend, where a camera shows such a thing without verification is damaging....We could pay a big price for that some day, if such a trend is not checked....I am a simple person and will not take any action," he said.
Asked if he felt there was some vested interest behind the sting, Khan said that everyone has his own interest. "Everyone has his own interest. I am interested in the running of a government....They (channel) might be under influence of the opposition parties which want to rule the country", he said.
On allegations that he was behind the transfer of the district magistrate and SSP of Muzaffarnagar, the minister said that the media should talk to them and then they would only praise him.
On if he had any resentment over the Muzaffarnagar incident, Khan said that it was only an assumption and there was no reality in it. "Either you or your channel know about my happiness and displeasure....Assumptions are being made, but this is not needed at this time. The need of the hour is to ensure normalcy and trust in relationship," he said.
On the proposed visit of Shahi Imam of Delhi's Jama Masjid Maulana Ahmad Bukhari to Muzaffarnagar, Khan said that 125 crore people live in the country and there was free movement which the Constitution permits.